Alumni
'90s Decade Reunion Volunteer Mark Sylvia, SPA/BA '96, SPA/MPA '98, Attributes Success to American University
By Tara Lang
August 13, 2012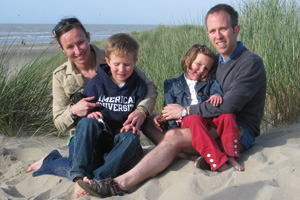 For Mark Sylvia, SPA/BA '96, SPA/MPA '98, "Once and Eagle, Always an Eagle" is more than just an AU spirit call. Its inception was the crowning achievement of his term as Student Confederation president in 1995-96 and aptly describes how Mark, a reunion volunteer for the 90s decade reunion this All-American Weekend, feels about his alma mater. "From freshman year to graduate school, I had a wonderful experience at AU," he recalls. "There are two things I can attribute to my professional and personal success in life: A great upbringing and community experience in Fairhaven [Sylvia's Massachusetts hometown] and American University."
And that success has been considerable. In January 2011, Mark was named Commissioner of the Department of Energy Resources (DOER) for the Commonwealth of Massachusetts with Governor Deval Patrick's administration. Under Sylvia's leadership, DOER develops the state's overarching energy policies and implements programs aimed at ensuring the adequacy, security, diversity, and cost-effectiveness of the Commonwealth's energy supply. Among the four divisions he oversee is the Renewable Energy Division, responsible for the Renewable Energy Portfolio, the state's well-known incentive program for solar, wind, and other renewable technologies, as well as the Energy Efficiency Division, which is focused on helping people make smarter choices about energy. This year, the Commonwealth was rate the top state in the country in energy efficiency, surpassing California for the first time ever.
Close to Sylvia's heart is the Green Communities Division, which helps cities and towns in Massachusetts meet their energy goals. Mark got his start in the Patrick administration three and a half years ago as the director of this division. Enamored with the governor's focus on supporting cities and towns across the Commonwealth, Mark jumped at the chance to be a part of the administration, leaving his position as the youngest-ever strong town manager of the city of Plymouth, a post he'd held for four and a half years.
In addition to his day-to-day responsibilities as commissioner, which include working on energy policy, meeting with stakeholders, environmental groups, and municipal groups, and providing testimony to legislature, Mark keeps busy with national-level responsibilities. He is one of two Massachusetts representatives on the Regional Greenhouse Gas Initiative, the first market-based regulatory program in the U.S. to reduce greenhouse gas emissions. He also serves on the National Association of State Energy Officials. But most meaningful for Mark is the opportunity to improve the lives of people in his home state. "Massachusetts is a leader in the country in energy, and it's great to be a part of that positive impact for our generation and future generations," he says. "That's what gets me up in the morning."
Perhaps other incentives are Mark's two children and his wife, Veronique Sylvia, CAS/BA '98, whom he met while an RA at AU. "Her boyfriend was one of my residents in Letts Hall," Mark recalls. They reconnected (sans boyfriend) a few years later, when Mark was in graduate school and they both were living on the Tenley campus. Once Mark proposed, Veronique followed him to Plymouth, Massachusetts, where he held the first of many positions in local government.
The family of four has now come full circle, living in Mark's beloved hometown of Fairhaven, 60 miles outside of Boston. A quarter board, usually seen on old whaling vessels, hangs over their garage and reads "Eagles' Nest," proudly proclaiming their home as a nest for past, and hopefully future, American University Eagles. After all, once an eagle, always an eagle.