Alumni
Salute to the Class of 2016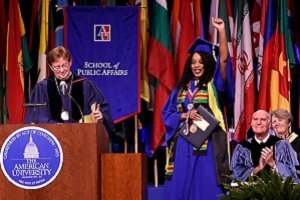 Capstones and final exams. Theses and dissertations. Studying abroad and interning on the Hill.  

American University's spring class of 2016 celebrated their accomplishments and the completion of conscious-raising, community service, and student organization hours with ceremonial bagpipes and beautiful blue caps and gowns during the 131st commencement ceremonies in early May.

Marshaled by President Neil Kerwin, SPA/BA '71, more than 3,000 graduates participated in AU's six commencement events, listening to inspirational student speakers and a host of newly minted honorary degree holders. Guest speakers included The Honorable Loretta E. Lynch, 83rd Attorney General of the United States, Deborah Rutter, president of the John F. Kennedy Center for the Performing Arts, CNN Chief National Correspondent and Inside Politics anchor John King, and Maria Elena Salinas, co-anchor of the most-watched newscast by U.S. Hispanics, Noticiero Univision.

The record of student achievement in this graduating class continued to show the strength of AU's scholar community. More than 70 undergraduate and graduate students received a national scholarships or finalist recognition from U.S. Department of State's Fulbright Program, The Boren Foundation, the Barry Goldwater Scholarship and Excellence in Education Program, and more. Nine additional students were awarded special recognition by the university for significant contributions to the AU community through student government, public service, or organizational leadership, including Tatiana S. Laing, SPA/BA '16, winner of The President's Award.

Campus community impact by the Class of 2016 was especially impressive when looking at student philanthropy. Ava Cates, CAS-SPA/BA '16, served as the 2015-16 chair for AU's Students Today, Alumni Tomorrow (STAT) Committee, a peer-to-peer student fundraising group. With the support of six student leaders, Cates presented President Kerwin with a ceremonial check for $13,560 from 125 student donors during the commencement weekend's Toast to Graduates event. These gifts supported a myriad of existing campus funds that students felt influenced their own development and experiences.

The American University Alumni Association is proud to welcome these Eagles into a global network of 120,000 living alumni, and we hope that you too will take a moment to celebrate their achievements on our Facebook page.

Congratulations, Class of 2016!