Alumni
Come Back to Campus for All-American Weekend 2010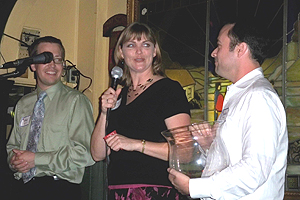 Summer is in full swing, but fall's cooler temperatures will be here before you know it - along with All-American Weekend 2010 - A Celebration for Alumni and Families.
Formerly known as Alumni Weekend, All-American Weekend this October 22-24, will feature many of the traditions alumni have come to know and love, as well as some new programs and events that are sure to pique your interest.
Keeping with tradition
If you've come back for Alumni Weekend in recent years, you may remember that Friday is set aside for class reunions. This year will follow suit.
On Friday, October 22, the popular Golden Eagles' luncheon will bring together alumni who graduated 50 years ago or more in Mary Graydon Center's University Club. Each new Golden Eagle inductee from the Class of 1960 will receive a special medallion from President Neil Kerwin, SPA/BA '71.
Later that evening, the Class of 2000 and the Class of 2005 will gather at Ireland's Four Fields for their 10-year and 5-year reunions, respectively.
At 8 p.m., all alumni are invited to join the fun at the Four Fields for the All-Alumni Party. Last year's party boasted more than 250 alumni and guests, so you won't want to miss this. "We had wall-to-wall people last year and a lot of great AU energy in the room," says assistant director of Alumni Programs Heather Buckner, SPA/MPA '10. "Even though the party officially ended at 10 p.m., some alumni were coming in after midnight and still asking for an AU nametag."
Saturday, October 23, will also boast some tried-and-true favorite Alumni Weekend events.
Fitness-focused alumni can kick off the day with the American Classic 5K, an early morning run around campus.
Later in the morning, the deans from all five schools and colleges will host open houses for alumni and parents.
At lunchtime, for the sixth year now, alumni and families of current students also on campus for All-American Weekend, are invited to the Woods-Brown Amphitheater for the All-American Picnic. With delicious BBQ, live music, and an AU scavenger hunt, the picnic is fun for all ages.
Saturday afternoon events include Classes without Quizzes, featuring presentations from popular AU professors; a panel of alumni authors; and historical walking tours of campus.
New events worth checking out
AU's own Ann Kerwin, CAS/BA '71, will host one of the new events to debut this year - an afternoon tea and art tour at the President's House on Glenbrook Road on Friday afternoon. AU Museum curator and director Jack Rasmussen, CAS/MA '83, CAS/PhD '94, will assist with the tour, which will feature Watkins Collection art currently on display throughout the house.
On Friday night, a new reunion for the classes of 1980-1989 will take place in the Tavern from 6 - 8 p.m. The new format honoring alumni from the entire decade of the 1980s comes in response to suggestions from past participants, says Buckner.
We've tried reunions for individual class years in the past with modest success and have heard from alumni that they would like to reconnect with their friends and classmates who may have graduated a year or two before or after they did, as well. The new decade reunion format will give the 1980s alumni that opportunity to interact with their fellow classmates across grad years.
"We decided to roll out the program with the 1980s alumni in the hopes of bringing back the glory days of the Tavern . . . big hair and acid-washed jeans are optional," notes Buckner. One thing's for sure: there will be no shortage of 1980s music playing!
On Saturday night from 6-8 p.m., the 2010 alumni awardees will be honored at the Alumni Awards Ceremony, which will debut as a stand-alone event this year. The reception on the third floor of the AU Museum will include hors d'oeuvres, wine, beer, and soft drinks, followed by the awards ceremony and remarks (stay tuned for the names of this year's recipients).
Immediately following the awards ceremony, the All-American Bash will commence on the first floor in the Katzen Arts Center Rotunda. Alumni from all class years are invited to relive AU through the decades with music, games, photo opps, and more.
"We want people to come back to campus and have a great time with their friends - and good food, drinks, and reliving some of their fondest memories," says Buckner.
"It's so easy to spread the word on Facebook," Buckner notes. "You could practically make it your own party if you got enough people to come from your class. Maybe we should make that a challenge . . .?"
Last but certainly not least, you'll want to stick around through Sunday morning to enjoy a special alumni brunch with Lonnie Bunch, CAS/BA '74, CAS/MA '76, founding director of the Smithsonian's National Museum of African American History and Culture, scheduled to open in 2015. Held on the third floor of the AU Museum, the event will feature remarks from Peter Starr, dean of the College of Arts and Sciences; President Kerwin; and Bunch himself, as well as a special performance from AU's Gospel Choir.
With so much going on, there's no way you can miss All-American Weekend 2010! For more information, visit the Web site.