Alumni
Winning Essay - 2015 Alumni Association Scholarship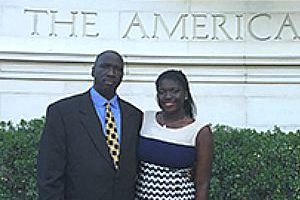 My father was a graduate of the College of Arts and Sciences at American University in 1990 with a focus in Development Management. My father's time at AU has not only shaped his life but has influenced me with my current passions and interests. One reason why I would like to attend AU is because it is dedicated to help educate their students to grow into a person who favors philanthropy, and uses their knowledge to make a positive impact in the world. My father's education at AU exposed him to international relations, and social change work 20 years before it became a "fad". AU is on the forefront in all educational fields, encourages their students to push the boundaries, and inspires their students to "Be the change that you wish to see in the world" (Gandhi). Although after my father's time at AU ended he did not leave behind that mantra, and used those very same words to help me aspire to be the person I am today. I would like to attend AU, because it is a unique institution that cares about educating the "whole body", and more importantly focuses on social change. I give all credit to my father's unwavering vocation to enact social change, because of his experiences at a truly unique university, and to his philanthropic fervor that has motivated me to follow in his footsteps. With the seed of philanthropy within me, I took the first giant leap in starting a nonprofit to create a brighter future.
My father is very proud about having attended American University, and his enthusiasm about the school is another reason in why I wish to attend for the upcoming school year. I would love to be a part of an institution that will leave such long lasting positivity within their graduates. My father does not entirely show much emotion about a lot of things, but when he speaks about AU, and about his time in the DC campus, his face truly lights up. He marvels over his time at AU, and speaks about his professors and friends from there with such irrefutable glee. I love to see my father's face when he talks about AU, and I know that if I am able to attend AU, I will meet people like he did that will lead me to speak about AU with so much joy.
As a proud alumnus of American University, my father has taken advantage of our close proximity to the school to attend some of the basketball games. At these events in Bender Arena that are full of students seeping with team pride, and with the eagle mascot running around enticing uproarious cheer from the stands, I can see myself at an institution like so. I would love to attend AU, because groups of students from SIS to CAS to Kogod can all come together in a non-academic environment to meet one another, and form a strong school community that means so much to me.