Alumni
Share Your AU Happily Ever After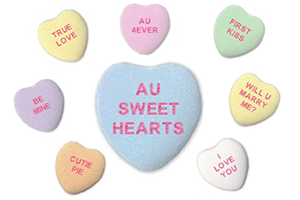 Every new American University student begins their journey expecting to find lifelong friends, make lasting memories, and – of course – get a world-class education. A lucky few find their soulmates along the way. In fact, we know there are at least 2,500 happy AU alumni couples.
Each February, we ask these couples to share their love stories as part of our AU Sweethearts Social Media Project. Below are some highlights from previous years. If you found your mate at AU, tell us your story and send us your photos. We will feature you and other AU couples in the next issue of Alumni Update and on social media. You can fill out this form or share stories and photos on Twitter and Instagram using #AUSweethearts.
Sarah Cooper, SPA-CAS/BA '12, and Sam Miller, SOC-CAS/BA '12, notably got engaged at commencement. The video of the proposal went viral and was even featured on the Today show.
Robyn (Slagle) Showanes, SOC/BA '08, and James Showanes, SPA/BA '08, met on Tenley Campus and now have a beautiful daughter named… Tenley!
Gerry Sommer, CAS/BA '66, and Joni Palew Sommer, CAS/BA '67, returned to Mary Graydon on the 50th anniversary of their meeting there.
Adam Dunn, SIS/BA '07, and Mary (Turkowski) Dunn, SIS/BA '07, were married on campus in Kay Spiritual Life Center.
Together for over 50 years, Dot (Murray) Waugaman, CAS/BA '62, and Paul Gray Waugaman, CAS/BA '61; SPA/MA '66, love attending All-American Weekend together.
Elizabeth Horsely, SPA/BA '09, SPA/MS '13 and Clay Massa, SPA/BA '10, spent their first date watching the 2009 Inauguration of President Barack Obama. "It was cold, and we left before the swearing-in! But we made up for it in 2013 when we attended the re-inauguration," says Clay.
Tyler Budde, CAS/BA '10, and Ezree Mualem, CAS/BA '09, went to the Founder's Day Ball together for their first date. "Who knew we would be practicing for our first dance [at our wedding]?" says Ezree.
Tessa Telly, CAS/BS '01, CAS/MS '03, and Saliou Telly, CAS/BS '02 were close friends until an outing for a school project turned into a date.
Read about more AU couples: