Alumni
New Local Program Features Star Faculty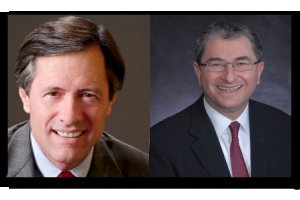 If you're ever curious what today's AU faculty are teaching their students, now's your chance to find out. The Office of Alumni Relations is pleased to introduce a local version of the successful traveling "Faculty on the Road" lecture series.
The new "Faculty Down the Road" (FDTR) series features the same format as its sister Faculty on the Road program that's been so popular in our chapter cities across the country. Each evening begins with a cocktail reception and is followed by a presentation and Q&A from one of AU's premiere faculty members - the perfect combination of social networking and educational enrichment. "Down the road," of course, means that the programs are held, literally, down the road from AU, in areas like Arlington and Bethesda, that are easily accessible to local alumni. Events are complimentary and include hors d'oeuvres, wine, beer, and nonalcoholic beverages.
Two of AU's most dynamic professors will kick off this spring's inaugural Faculty Down the Road programs:
Professor Arturo Porzecanski, School of International Service, will discuss The International Repercussions of the 2007-2009 Financial Crisis: What Did We Learn? in Tyson's Corner on Wednesday evening, April 21.
Professor Chris Palmer, School of Communication, will present Shooting in the Wild: An Insider's Account of Making Movies in the Animal Kingdom in Bethesda on Thursday evening, May 20.
Professors Porzecanski and Palmer are both key members of AU's outstanding faculty roster. An expert in international finance, emerging markets, and Latin American economics and politics, Porzecanski is AU's Distinguished Economist in Residence. His presentation focuses on the recent financial crisis, from which both the United States and the world are still reeling.
"I think that a global perspective of recent events is particularly missing," says Porzecanski. "For example, even though the epicenter of the 2007-09 financial earthquake was in the U.S., its shockwaves were felt much more strongly in Europe than within North America, to the point where the future of the European monetary unit is being questioned. I would like for our alumni to realize that, while the forces of economic and financial globalization have greatly increased worldwide interlinkages, the consequences are not straightforward and thus remain pretty unpredictable."
Palmer is SOC's Distinguished Film Producer in Residence, as well as the director of AU's Center for Environmental Filmmaking. His presentation, based on his soon-to-be-released book of the same title (we'll be selling copies at the event!), is particularly timely, coming on the heels of the tragic death of Sea World's killer whale trainer.
"I'll be talking about the issue of animals and their proper role in entertainment, as well as the mass media's role in producing a cuture in which sensational tricks with dangerous animals may be crossing an ethical line," says Palmer. "I hope alumni attendees will leave the event with an increased appreciation for good wildlife films and be better educated on how to detect those films that mislead audiences, harass wildlife, and use fakery and staging."
Both faculty members are eagerly looking forward to their FDTR programs. "It is always interesting to hear about the personal and professional progress that our alumni have made since leaving AU," notes Porzecanski. "I like getting their advice on how we can better prepare current students for their future real-world challenges."
Palmer adds, "Alumni are a lot of fun! They love AU and so take an enormous interest in everything the students and faculty do. For a speaker, that means having an audience that is energetic, eager to ask insightful questions, and ready to be entertained while learning."
For more information on each event and to register, visit the Faculty Down the Road Web site or contact Dan Beardslee at 202-885-5962.