Alumni
Take Part in National Volunteer Week: Become an Alumni Volunteer Leader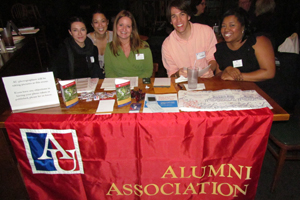 This week is National Volunteer Week. In honor of the occasion, we invite you to become an alumni volunteer leader.  Read about the many ways you can help AU, then fill out our Alumni Volunteer Form, indicating your areas of interest.
American University has plenty of opportunities for alumni to stay involved long after graduation.Whether you are a recent graduate or a more seasoned alum, you can find volunteer opportunities that fit your interests and schedule:
Join a reunion committee. Collaborate with former classmates and new alumni friends to make sure your reunion is one to remember. This coming All-American Weekend, October 19-21, we will celebrate the classes of the 1990s, 2002, and 2007, as well as induct a new class of Golden Eagles who graduated in 1962.
Become a chapter volunteer for one of AU's 34 alumni chapters around the world. Chapters bring a bit of the AU campus to you, wherever you are. Become a chapter leader and be a part of maintaining AU's global network while expanding your personal and professional connections. If we don't currently have a chapter in your area, contact Melissa Bevins to discuss creating one.
Be a part of a Young Alumni Chapter (YAC) in D.C. or New York City. Help plan social, cultural, and professional events while working with other alumni to create meaningful programs to enrich the lives of young alumni. YAC welcomes AU graduates from the last ten years.

Join the Alumni Admissions Volunteers Program and assist with the recruitment of prospective undergraduate AU students. Volunteers work closely with admissions representatives to actively engage students at college fairs and information sessions across the country.
Apply to serve on AU's Alumni Board. Board members are ambassadors of the university. They engage fellow alumni in the life of AU and help guide the efforts and initiatives of the Office of Alumni Relations. Applications for the 2013-2015 term will open in September.
Partner with the Career Center to support current students and fellow alumni in their academic and professional endeavors. Offer job and internship opportunities to current students, share career advice, and participate in workshops and mock interviews.
The College of Arts and Sciences, Kogod School of Business, School of International Service, School of Communication, and School of Public Affairs also have alumni volunteer programs. More information on each is available via the quick links at the top of this page.
We hope you will consider service to AU as part of your lifelong relationship with the university.