Alumni
KNOW AU: WONK ads popping up all around town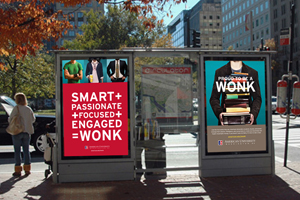 After much excitement among wonks in the American University community, a more public launch of the institutional brand campaign is underway this spring. WONK ads are popping up all around town, including at the Reagan National Airport. The bigger push for the AU brand coincides with prospective student visits and Freshman Days, graduate school spring recruitment, and the spring tourist season.

At the Reagan Airport Metro station, the campaign will occupy a majority of the space with a total of 44 placements, including floor graphics, posters, pillar wraps, banners and a backlit diorama. There will also be a presence inside the airport with dioramas at each airport gate through April. If you're taking a bus rather than a train or plane, you may find yourself waiting by one of the WONK transit shelters located at Farragut North, Wisconsin Avenue, Convention Center and Gallery Place. Those will be in place through April.

Local television station CBS-9 is producing a series of Wonk Talks that include six two to three-minute faculty interviews, which will run twice a week, around the CBS morning news and the 7 p.m. newscast. If you can't tune in, though, these are available online.  Interviews with SOC's Pat Aufderheide and CAS's U.J. Sofia already have aired.

Check out the updated Web site at american.edu/wonk to test your knowledge against AU's student, faculty, staff and alumni experts. New challenges and features are being added weekly. You can also connect with other Wonks and purchase a wide variety of WONK gear. Stay tuned for blogs and more, coming soon.