Alumni
Partnership with Washington Post benefits AU Alumni
By Traci Crockett
November 15, 2011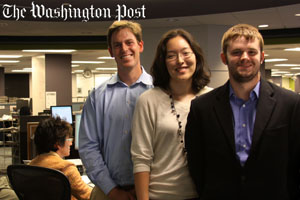 Thanks to a unique partnership between the School of Communication and The Washington Post, AU grads now enjoy an exciting new benefit. We are very pleased to offer alumni and friends of the university an opportunity to take new, online classes offered exclusively by The Washington Post. The courses, developed and taught by reporters who are experts in the areas covered, are taken at participants' own pace. Learn more by visiting www.PostMasterClass.com and receive 20% off when you enter "American University" in the discount code box. (Please note: The code is case sensitive and the space is required.)

The MasterClass collaboration grew out of SOC's working relationship with Washington's premiere newspaper. SOC Dean Larry Kirkman said, "With the launch of this multifaceted partnership, The Washington Post and the American University School of Communication are fulfilling our shared commitment to developing the next generation of journalists and realizing the transformative potential of interactive media for journalism. American University graduate and undergraduate students started reporting for the print edition and online in multimedia in September and already they have earned dozens of bylines from covering stories assigned to them by Metro Editor Vernon Loeb on the most important issues facing the city, on education, politics, poverty, environment, transportation, and immigration. The Washington Post is giving our students the opportunity to meet the highest professional standards and our students are rising to the challenge."

SOC faculty will develop future course material as part of the partnership. "Building on this foundation, we're thrilled that The Washington Post asked us to partner with them in offering MasterClass enrichment courses," says Sharon Metcalf, senior director of strategic partnerships and programs for SOC. "AU alumni around the world can participate in this unique online learning experience on topics ranging from digital photography to economic literacy. As the program expands, our faculty experts will provide instruction as part of the AU/Washington Post initiative."

The self-paced courses include 15-25 hours of instructional content and make great gifts. Each is divided into eight segments, including a video introduction by the instructor. There are also periodic questions and interactive exercises to help participants gauge their understanding of course material. 
The Washington Post is one of SOC's premiere partners. This program is just one of the ways that the relationship is mutually beneficial. AU students serve in prestigious Dean's Internships, the Post features student-produced video stories that explore the diverse racial makeup of the metro region, and faculty members analyze and comment on news events as expert  sources.   The initial slate of online courses includes:
•    Introduction to Economic Literacy
•    How the Federal Government Budgets and Operates
•    Inside China
•    Great Digital Photography: Learn from the Pros
•    Creating Audiences for Your Digital Content
•    Spy Fact and Fiction
•    The Wines of Bordeaux

The discount for AU alumni is for a limited time, so be sure to take advantage of the great savings now!