Alumni
Alumnae Leaders Celebrated during Women's History Month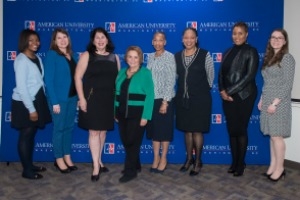 During Women's History Month in March, American University is celebrating the achievements and contributions of women to history, culture and society.
There are many accomplished American University alumnae - both in history and today. One from the past is suffragist and women's rights activist, Alice Paul, who composed the Equal Rights Amendment, was president of the National Woman's Party, and played a fundamental part in the passage of the 19th Amendment which gave women the right to vote in 1920.
Alice earned her LLB from the Washington College of Law (WCL) in 1922. A year later, she formulated the Equal Rights Amendment (ERA) to guarantee women protection from discrimination. Over the next six years, Alice earned two more law degrees from AU and WCL before it officially merged in 1949. She spent the rest of her life advocating for the ERA and other women's issues.
In honor of Alice Paul and other alumnae leaders, there are several campus events and activities planned during March in celebration of Women's History month. On March 1, the Career Center, the Center for Diversity and Inclusion, and the AU Alumni Association partnered to host the third annual Alumni in the KNOW: Women in Leadership panel discussion and networking reception. At this event, over 60 alumni and students heard advice from five distinguished alumnae in leadership roles. "I really enjoyed how real the women were during the panel. They didn't sugar-coat their responses to the questions being asked and as a young woman entering a field that is typically male dominated, I think that was really beneficial." says SIS graduate student, Victoria DeSimone.
After the panel discussion, there was a student-alumni networking reception. One accomplished AU alumna who shared her perspective as a successful leader with the students and alumni present was Darlene Slaughter, SPA/MSHR '93, Vice President and Chief Diversity Officer at United Way Worldwide. "The best part for me was getting a chance to engage with the students after the panel session. Their questions were thoughtful and inquisitive and they all were very impressive. Our future leaders are in great hands at American University," says Darlene.
Another Women's History Month event was the Delta Gamma-Beta Epsilon first annual alumnae career panel with Delta Gamma (DG) alumnae in attendance from the University of Maryland, the University of Michigan, and AU. The panel members included alumnae with careers at the U.S. Department of Agriculture, at non-governmental organizations, consulting firms, and Capitol Hill. Student members of DG walked away from this event with advice regarding internships, interviews, resumes, cover letters, and on being a woman in the workforce.
Another upcoming alumnae/student activity, scheduled for March 16, is the AU Women's Network & Eagles Nest coffee chat. This is a casual networking and mentoring session for AU alumnae and graduate students to get together over coffee and continental breakfast on campus. More information is available on the AU alumni association website. The AU Women's Network will offer additional programming for alumnae and students in the coming months.