Alumni
So Happy Together: Upcoming Event Celebrates Couples with an AU Connection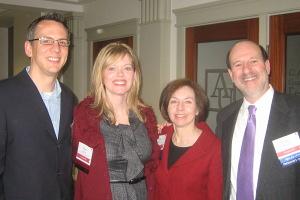 We all know some pair from college who everyone just knew was going to end up together forever. After graduation, we still peruse the Class Notes section of the American Magazine every time it comes in the mail just to see if these college predictions panned out. Did Neil finally propose to Ann? Did Dennis and Brian end up tying the knot?
On Wednesday, March 16, the American University Alumni Association will host its second annual So Happy Together: A Reception for AU Couples. This reception celebrates couples who met through AU or who both have an AU connection. Hosted by two Alumni Board members and their spouses (pictured above), the event features champagne and truffles, how-we-met story sharing, and a slideshow of submitted photos of couples at AU. A special addition to the event this year are the handmade truffles by AU alumna Sandra Escobar, SPA/MPP '99—also one half of an AU pair.
Last year's event brought in couples who have stayed true to each other since the 1960s and couples who are still deciding if "I dos" are in order. Our Alumni Relations Office knows of over 2,500 alumni couples around the world in addition to dozens more AU pairings amongst faculty and staff. But we only know of the ones who have written in to us for Class Notes or address updates announcing the partnership. If you happen to be a member of an alumni couple, and you both get separate AU mailings, then that probably means we don't know you're a couple. All you need to do is click the link for "Submit A Class Note" on the left, and share your news with us so you can be included in future events – not to mention help reduce paper waste in our mailings.
Over the years we've featured many AU couples, some alumni couples, and some faculty/staff couples. Check out the list of quick links to the right for stories about some of our featured AU couples and see if anyone you know is listed. You can also peruse the slideshow of alumni couples that we featured at last year's event. Who knows? Maybe that couple you knew was going to end up together forever is even coming to our event.