Alumni
Environmental Activist, Filmmaker, and Author to Speak at AU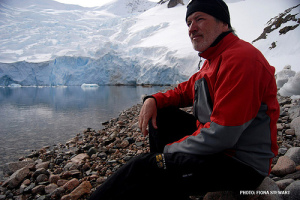 He came to D.C. on the heels of Watergate, inspired to pursue a career in journalism with a program that had access to Washington. As one in about a dozen students in his master of journalism and public affairs program at AU, Jon Bowermaster, SOC/MA '77, learned how to  "look behind the curtain—to know how to look and what to look for behind the curtain" through his degree.
Now the author of 11 books and producer of a dozen documentary films, Bowermaster is a noted oceanography expert, award-winning journalist, and six-time grantee of the National Geographic Expeditions Council.
Following AU and an internship in New York City, Bowermaster co-ran a weekly alternative newspaper in Iowa before returning to New York in 1985. In 1986, he started work as a freelance journalist, "doing anything to gain access to editors and write anything they wanted me to," and hasn't looked back.
In 1989, he got his first assignment with National Geographic, a seven-month commitment to cover a historic first, crossing Antarctica on foot.  Not only did the project start Bowermaster on an extensive career with National Geographic, but it was also fodder for one of his books, Crossing Antarctica (1993).
In 1999, Bowermaster won a Lowell Thomas Award for environmental reporting and began work on a new 10-year oceanic project. The film series "Oceans 8" documents exploratory ocean expeditions from the seat of a kayak—literally exploring at sea level.
"I love the ocean. It's incredibly beautiful and volatile—and a dangerous place," Bowermaster admits.
Bowermaster's most recent book, Oceans: The Threats to Our Seas and What You Can Do to Turn the Tide, is a companion guide to the Disney Nature film Oceans (2009). The book, edited by Bowermaster, contains famous environmentalists' writings on what they love about the ocean and what needs to be done to save it. Bowermaster will speak about his work and this book at AU on Wednesday, March 2.
"For a storyteller like me, there are millions of stories about people who depend on the ocean," Bowermaster says. His latest project, SoLa : Louisiana Water Stories, features stories from the people of Louisiana both prior to and during the horrific oil spill of 2010.
Through his work, Bowermaster has reported from more than 80 countries, and one thing he's noticed time and time again is commonality in the human spirit. "We have far more in common than different," he remarks.
"Traveling and talking to people is the best way to see the world," he acknowledges, and through his writing and films, he allows us to see the wonders of the world and its stories as well.
Register for Bowermaster's discussion on Wednesday, March 2 by visiting our Alumni Events Web site.