Student Life
Tight competition, strong participation at Fifth Annual Golf Outing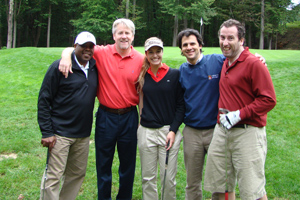 Alumni, students, faculty and friends came out in record numbers on Saturday to enjoy 18 holes of golf, great food and the chance to connect – and reconnect – with each other at the Kogod Golf Outing.
"With over 90 participants, we had a wonderful response from the Kogod community," said Lawrence Ward, Associate Dean for Academic Programs. "Little Bennett was a fantastic venue and our K-LAB staff did an amazing job putting together a first-class event."
MBA student DeWayne Shambley ('11) said he chose to participate even though he's not an avid golfer. "I have played golf before, but this is just a good experience to get out and meet people and socialize," he said.
But there was an additional motivator in play: the opportunity to best reigning champion Professor Ed Wasil and his team from first place in the annual tournament.
The event unfolded at Little Bennett Golf Course in Clarksburg, MD, a hilly but scenic course with views of Sugarloaf Mountain. Golfers enjoyed breakfast and a stop at the driving range for warm-up before joining their foursomes and departing the clubhouse for a 9:00 a.m. tee time.
"We're all contributing to the team right now … our team is pretty cohesive," said MBA student Jeff Nelson ('10) midway through the tournament, whose team was comprised of student club leaders. "We're having a good time – we can't complain." Nelson serves on the board of the Graduate Business Association.
For the most part, the rain held off until golfers completed the course and returned for a barbeque lunch before the awards were announced in the tight competition. 
The tournament's top winners emerged as Nicholas Suggs (PTMBA), Brian Cotney of General Growth Properties, and friends Kyle Craft and Chris Hastings took first place with a team score of 61.
The "Dean's List" team of Larry Ward, Patrick Heneghan, Brian Donnellan, and Ana Ines Rodriguez Larreta (MBA '11) placed second with a team score of 62; Larreta also won for the longest drive in the women's division and was the only golfer to score a hole in one.
Finally, Professor Wasil, his son Ethan, and teammates Jonathan Porwick and David Fisher took third place with a team score of 63. 
Real Estate Club President Sanjay Mishra (MBA '10) had the longest drive for the men's division. Along with Larreta, he won a $75 Top Golf gift certificate. Robert Abresch (MBA '10) was "Closest to the Pin," which came with a $50 gift certificate to Potomac Pizza.
David Fisher, a Kogod alum, won the putting contest - and along with it a Sweet Wood Golf Company wood putter engraved with the Kogod School of Business' logo.
"We are very pleased with the success of this year's Golf Outing," said Allison Holcomb, Director of Programming & Student Activities. 
"The goal of this event is to develop a sense of community between students, alumni, corporate partners, parents, faculty and staff, and we feel that this was definitely achieved."
The K-LAB would like to thank sponsors Ernst & Young, The Kogod School of Business Dean's Office, the Kogod Center for Career Development and the Graduate Business Association.