International
Alumni: Travel, Flexibility Key to International Business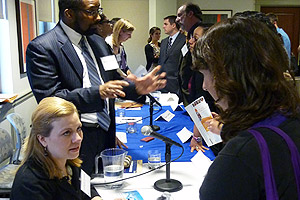 Kogod alumni urged students with an interest in International Business to spend time abroad, learn new languages, and be willing to travel at a panel on Wednesday evening.
"If you want to get ahead, you have to get on a plane," said Kevin Mitchell, MBA '92, Director of Fiscal Accountability at the Millennium Challenge Corporation (MCC). Mitchell is responsible for overseeing a financial management portfolio of $900M in MCC programs in the West African countries of Benin, Cape Verde and Mali.
The six alumni in attendance represented a cross-section of private sector corporations and non-governmental organizations.
Francisco Gomez spoke of a three week trip to China he joined with Professor Frank DuBois. "Take advantage of those types of opportunities at AU," he told students. "Experiences abroad count in an interview." 
Gomez is Global Alliances & Partnerships Manager at the American Chemical Society.

Other advice for students included:
Education is huge, and master's degrees, especially the MBA, are considered "crucial."
Forge personal bonds with your coworkers and clients while traveling, even if its "6:00a.m. exercising together in Vietnam," said Mitchell.
Enter projects with an "acute cultural awareness," emphasized Nancy Geofroy, a manager in financial business analysis with Marriott International. "You need to step back and say, 'What can I learn from these people?'" Nenad Dordevic, President of Saltus, LCC, agreed that cultural differences are a challenge when dealing with banks and corporate culture specifically.
Take advantage of Washington, D.C.'s unique position in the international business community and network.
The women on the panel – Geofroy, Maryanne Burke of the International Trade Administration, and Stephanie Saenger of World Vision – said that despite minor issues when traveling, gender was not a roadblock to a career in the field. "When we get down to business, it's all business," said Burke.
Leverage your professors (and their networks) as resources.
Alumnus Kevin  Mitchell, '93, has worked for both the American Red Cross and the World Bank and attended the panel last night to gather advice and check out the new campus facilities. His advice to current students was "don't be afraid to go off the beaten path" and to take advantage of their youth to travel and live abroad.
"There is always an endpoint to living somewhere," he said. "It is an advantage to you to know when it is time to turn the page on that chapter of your life." 
The event was hosted in partnership with the International Business Undergraduate Club, the Undergraduate Business Association, and the Undergraduate Multicultural Business Association. Sixty students and alumni pre-registered for the event.