Alumni
Alumnus Directs Effort to Fight Disease in Haiti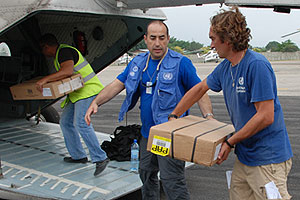 Over the past 13 months, scenes of destruction, devastation and disease have poured out of Haiti. Dr. Malek Sbih, MBA '05, has seen the crumbled houses and cholera-stricken patients firsthand.
Sbih is a consultant for the Pan American Health Organization (PAHO), a regional office of the World Health Organization (WHO). As the D.C. department's point man for Haiti, Sbih has traveled to the country several times since the January 2010 earthquake to support Haiti's principal pharmaceutical agency, the Programme on Essential Medicines and Supplies (PROMMES). The agency is managed by PAHO/WHO and overseen by the Haitian Minister of Health.
On the ground, Sbih is part liaison between the Ministry of Health, PROMESS, and other groups, and part operational management supervisor in the absence of the PROMESS manager.
Collaborating closely with the Haitian government, NGOs and healthcare providers, Sbih assesses the medical and supply needs of organizations, doctors, and their patients and attempts to meet them.
Medical professionals from Port-au-Prince and beyond come to PROMESS's warehouse for supplies. Some volunteers have little experience working in a situation like Haiti's, so Sbih and the staff help them determine the supplies they need.
"A main challenge is unpacking and sorting the supplies and donations," Sbih said in an interview for the WHO. "It can take hours for the team in the warehouse to reach the bottom of a container and ensure the medicines and supplies are stored appropriately."
A trained medical doctor, Sbih decided to earn an MBA at Kogod after he transitioned into the pharmaceutical industry a few years ago.
January 12, 2010
The earthquake took 222,750 lives and injured 300,572 people. The Port-au-Prince International Airport and seaport was seriously damaged, limiting the international community's immediate response.
To the widespread destruction, add an outbreak of cholera – a virulent infection carried by contaminated water that can kill within hours through dehydration and diarrhea. There have been nearly 200,000 cases of cholera since its outbreak on October 21, and almost 4,000 people have died.
"What arrives there in Haiti is sad: Earthquake, hurricane, cholera," Sbih said. "And on the top of that we have a political instability that doesn't help us to move forward with our project with the Ministry of Health."
In late November 2010, PROMESS distributed over 87 tons of essential medicines and supplies to squash the cholera outbreak and help its victims. Since then, the agency has distributed over 100 tons of new supplies for cholera response.
Little more than a year after the quake, over 400 health partners have registered with PAHO/WHO's Health Cluster, designed to support Haitian authorities in coordinating the international health relief efforts.
The earthquake and outbreak of cholera have garnered international attention from aid groups and celebrities alike. Academy Award-winning actor Sean Penn was involved from the start, founding a nonprofit to provide educational and medical services, manage Internally Displaced Persons (IDP) camps, and remove rubble.
A Day in the Life
Sbih has been to Haiti six or seven times since the earthquake, usually for three to four weeks each. For him, a typical day there begins with a cup of coffee and a 7:15 a.m. staff meeting. Doctors, nurses and volunteers begin arriving for supplies by 8 a.m.
At 4 p.m., Sbih heads to the UN Logistics Base to attend the Health Cluster meeting where he chairs a subgroup on medicines and medical supplies. Group members discuss the issues they face in the field.
After the meeting, Sbih returns to PROMESS for a quick bite to eat before meetings with pharmacists, e-mails, writing notes for the Health Cluster bulletin and reviewing orders to be filled tomorrow. Finally, it's time for bed.