Alumni
Alumnus Shares College Spirit with Youth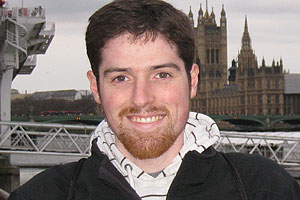 A four-day weekend usually means a trip to the beach this time of year. But for Peter Drummond, BSBA '07, this time off work was spent mentoring low-income high school students to strengthen their college applications.
He volunteered with College Summit, a non-profit that works to raise community-wide college enrollment rates, according to its website.
During the week Drummond is a financial statement auditor for Deloitte in McLean, VA. Deloitte partners with College Summit, allowing its employees to take paid time off so that they can go to the workshops, which start on Thursdays.
"While the program is very intense, it really is very rewarding to see how the students come in with nothing and leave with a personal statement they can use to apply to college," he said.
The organization chooses the most influential students to act as peer leaders with hopes that they will then encourage other students to follow their lead towards a college degree.
"As a part of the program each student or peer leader...goes through an extensive leadership process to equip them with the skills and self confidence to return to their schools to be ambassadors to their fellow students," Drummond said.
It was Drummond's second time working at one of the Summit's weekend workshops, where students meet with a college counselor who helps them select potential schools to apply to. Drummond was a writing coach and helped the high schoolers prepare their personal statements.
"While this is slightly daunting, College Summit has a predefined curriculum to help with the process which essentially consists of two free writes where the writing coach helps the peer leader to find ideas and then a drafting process," he said.