On Campus
"Social Media Sommelier" Gary Vaynerchuk to Share His Experiences at AU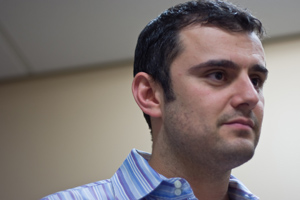 Gary Vaynerchuk, a businessman with a powerful social media success story, will bring his "Crush It!" attitude to the American University campus on October 14.
Vaynerchuk made a name for himself when he catapulted his family's modest New Jersey-based wine business to become nationally recognized – and significantly more profitable. 
His Wine Library TV blog captures charisma-driven monologues where he lays bare his opinions of wines, sports and a myriad of other topics on a daily basis.
Vaynerchuk's debut book, "Crush It! Cash in on Your Passion," shares his experiences using the Internet to market his business and encourages other entrepreneurs to follow suit. It will be released on October 13, the night before his speech at AU. 
"His accomplishments really showcase the power of social media to produce both a unique experience and an extremely profitable enterprise," said Amanda Zimmer, president of the SOC Undergraduate Council and vice president of the Kogod Marketing Association. "We are so glad that the School of Communication and the Kogod School of Business came together to co-host this event."
The event is also in partnership with Ogilvy Public Relations Worldwide. Ogilvy's John Bell will moderate a Q&A discussion with Vaynerchuk after his initial remarks.
"Ogilvy believes in the power of social media – how it can transform the way we communicate and manage business. American University's School of Communications and Kogod School of Business understand this intersection," said John Bell of Ogilvy Public Relations Worldwide. "We are thrilled to present Gary Vaynerchuck with AU as he is one of the most outspoken voices in social media, not just because he believes, but because he applies it to his business every day."
In concert with Vaynerchuk's affinity for technology, Professor David Johnson's graduate journalism class will stream video of the event live on the American Observer magazine's UStream.tv account. "This event will feature great content on the cutting edge, and it will dovetail perfectly to present that content using the exact same technology," Johnson said.
Attendees are also encouraged to tweet prior to and throughout the event using the Twitter hashtag #AUCrush.
The 8:00 p.m. event is free and open to the public, but an RSVP is required. A reception will follow.