Analysis
Report: Thyroid Cancer Increasing, Scientists Don't Know Why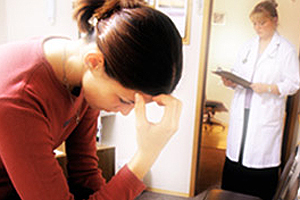 It's a medical mystery that has been developing for at least a decade: thyroid cancer—not breast, prostate, lung, or colon cancer—is the fastest increasing cancer among women and men in the United States.

And scientists don't know why.

In fact, according to new data from the National Cancer Institute (NCI), thyroid cancer diagnoses have increased at a rate of 6.5 percent a year from 1997 to 2006. 

The alarming trend has largely gone unnoticed. Now, a new project by American University's Investigative Reporting Workshop—an organization founded by journalism professors Charles Lewis and Wendell Cochran at AU's School of Communication—is helping shine a light on the issue.  

The project—composed of more than four original stories, several video interviews, and a fact sheet—pulls together the various medical research pieces of the thyroid cancer puzzle. It includes data from the NCI, the American Thyroid Association, the Mayo Clinic, and numerous published studies.

Caroline Stetler, an AU journalism graduate student and a Workshop staff writer, spearheaded the project, which is available on the Workshop's Web site. She found that as recently as three years ago, some researchers thought the increase in diagnoses could be explained by improved methods of detection; ultrasound, not widely used in hospitals until the early 1980s, has allowed physicians to find cancerous thyroid nodules smaller than 1 centimeter.

"There is now proof the increasing rate is not just a reflection of improved detection," said Stetler, a survivor of thyroid cancer. "But researchers say they really don't know what is causing the increase."

Scientists are pointing to factors such as heredity, chemical pollutants, diet, obesity, and increased radiation exposure via CT scans.

Stetler's research for the project led her to a study published in the March issue of the journal Cancer Epidemiology and Biomarkers and Prevention.

The study, coauthored by Dr. Elaine Ron, a senior investigator at NCI, focused on papillary cancer—the most common type of thyroid cancer, increasing consistently among all racial and ethnic groups.

Ron and her coauthors found that from 1980 to 2005, the number of larger tumors—those bigger than at least 2 centimeters—increased, disproving the improved detection theory as tumors of this size are generally found during a physical neck exam, not during ultrasound or other image screening tests.

Despite the unexplained increase in thyroid cancer, the illness is highly treatable and the majority of people diagnosed with it survive; the mortality rate has remained stable at 0.5 percent per year.

Stetler's project began last fall as an assignment for the Indepth Reporting class, offered by AU's School of Communication and taught by Workshop Executive Editor Charles Lewis.

"This is the first student project the Workshop has published," Wendell Cochran, senior editor of the Workshop, said. "We think it sheds light on a large and growing health issue that has, unfortunately, received little coverage by journalists."