Internships
Audio Technology Program Partners with NPR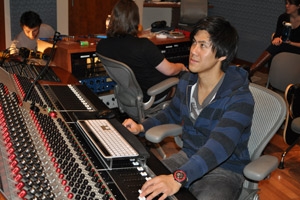 AU's Audio Technology Program is the leader of the pack. 
The burgeoning program, named by Education Portal as number one among top audio engineering and production schools in the country—and which has close to 100 students, including 15 graduate students—offers students valuable internships at such marquee locales as Quad Recording Studios in New York, the Cutting Room, National Geographic, Capital Audio Post, and other recording studios and radio stations. 
Now, add an exclusive internship at National Public Radio headquarters to the mix. 
Greg Smith, the newly hired professorial lecturer in the performing arts department's audio tech program, worked with NPR and AU to set up the internship. Smith's experience includes time at NPR on Morning Edition, Lucasfilm, and Imax. 
"This is completely something that Greg did," says program director Paul Oehlers. "Greg has been great because he came from that public broadcast background, and because of that experience he was able to make those connections easily. He said he thought we could establish permanent internships at NPR, so he set up one for the School of Communication and journalism and one for our audio technology students. We are the only school in the country that has a permanent internship with NPR, which is pretty exciting." 
The goal of the audio technology internship is to give students hands-on experience working with audio engineers at NPR, for which they can earn class credit. Interns help run the audio console for NPR morning shows, working the mix levels, recording programs, and making sure everything conforms to formats. 
"I've been observing the master control, which is the switching and routing of all the different audio streams," says spring intern and experienced first-year graduate student Brian Chew. 
"I've learned a lot there, talking with the guys about fault tolerance and the delicacy of everything. I have also sat in on the recording of Tell Me More. That was great, because I got to see them run the show and I got to do some pre-production on some audio bits. It was really dynamic and interesting. So I hope to be doing more with that, and possibly fixing up some audio clips for them." 
Chad Miller, the fall intern, saw the experience as an invaluable asset to his education at AU. "I was constantly presented with opportunities to probe new areas and new ways of doing things," he says. "I can already say with confidence that simply being there drastically shaped the trajectory of my education. Having been given the means to explore at NPR, I've shifted my academic focus and rejuvenated my desire and ability to learn new concepts, new fields, and new ways of thinking." 
Students apply for the internship through AU. Audio tech faculty interview the applicants and recommend three candidates to NPR for the final selection process. 
Initial feedback from NPR has been positive. 
"It is difficult to get in at NPR," Oehlers says. "There is a very established hierarchy and process for getting hired there. It's not conducive to just walking in the door and asking for an internship; you have to lay the groundwork."