In the Community
Sustainability the Subject of DC Festival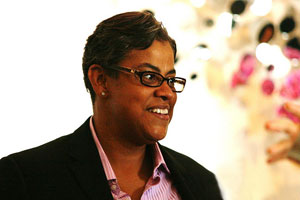 Events such as the D.C. Green Festival make abstract concepts like a "green economy" real for people, according to Kogod Professor Russ Gaskin.
The weekend-long sustainability festival brought together business and community leaders, eco-friendly businesses, authors, educators, and musicians. The festival featured workshops, talks, a green product showcase, and other fun events at the Washington Convention Center on October 23 and 24.
"These events demonstrate not only that we can create an economy that really works for people and the planet, but that we're already doing it," Gaskin said. "In my experience, telling people about something is never as effective as having them experience it, and then talking about it with them."
This year, the festival, jointly produced by Global Exchange and Green America, consistently hit a 92% or higher recovery rate, meaning less than 8% of the waste generated by 35,000 attendees will end up in a landfill, Gaskin said.
Gaskin, who is also the Chief Business Officer for Green America, offered festival attendees advice on how small/micro-enterprises can access green markets. Gaskin, along with panelists Kate Davenport from EcoVentures International and Tamy Halvey of Association for Enterprise Opportunity, talked about the increasing green market opportunities and increasing consumer interest in green products.
The panelists discussed the need to be transparent, specific, and authentic when engaging with green consumers, especially with imminent green guidelines from the Federal Trade Commission, Gaskin said.
Alumna Melissa Bradley, MBA '93, spoke on financing green businesses during the D.C. Green Festival. Bradley was recently appointed CEO of Tides, a nonprofit seeking to promote a sustainable, socially just, and economically fair world.
At the festival, Bradley explained the type of financing available for green businesses from government funding and tax credits to banks and individual investors. A solid business plan and a focused presentation are essential to gaining funding, she said.
"The green festival is important as it elevates the knowledge of the general public on the importance of environmental and economic sustainability and provides immediate actions and options to exercise new knowledge," Bradley said.
The festival is a great place to mix business, family, and fun, Gaskin said.
"My son actually said recently that his favorite places to go are Green Festival and Legoland," Gaskin said. "Pretty high praise from a nine-year-old!"