Academics
Kogod Offers New Personal Wealth Course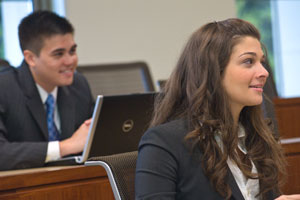 This fall, Kogod will offer a new personal wealth management course, Fin-496, which aligns with the School's new strategic plan.  Kogod's goals are consistent with the University's planning process; specifically this new course serves to highlight the importance of wealth management and financial services at the personal level.
"The economic crisis has taught us that we need to be better managers of our own money," said Lawrence Schrenk, professor of the new course.  The knowledge and skills learned in Personal Wealth Management are designed to prepare Kogod students to help manage their money through both turbulent and sound financial periods.  Projects in the class will use current, real-world data.  Students will utilize the new Financial Services and Information Technology Lab for securities data and portfolio analysis. Upperclassmen enrolled in this course will learn to manage money and make optimal financial decisions.
The course applies advance techniques typically used by private bankers in managing the accounts of high net worth investors.  Special emphasis will be placed on personal risk management and a life-time horizon for planning decisions.  Other topics covered include investments and retirement planning, the use of credit and insurance, and financial planning for tax minimization.