Alumni
Eric Rodriguez, SPA/MPA '97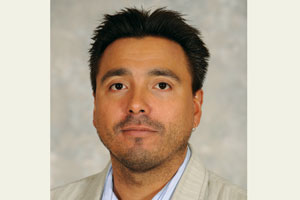 Eric Rodriguez tackles tough issues on behalf of Latinos in America: How do we create more jobs, help families get on a pathway to citizenship, and help uninsured immigrants get access to health care?
As vice president of the National Council of La Raza, Office of Research, Advocacy, and Legislation, Rodriguez leads public policy analysis efforts on issues to give people better lives. 
NCLR, the largest Hispanic civil rights and advocacy organization in the United States, works with a network of some 300 community organizations to reach out to millions of Hispanics across the nation.

"Someone needs to help give a voice to those who feel they do not have one and represent those who feel isolated. Latinos need a champion and an advocate," Rodriguez says. "We provide advice to policy makers," he says. "We've dealt with difficult issues, and sometimes it feels like we're losing more than we're winning, but that's what makes it feel so good to win when we do."
The Brooklyn, New York, native earned a bachelor's degree in history from Siena College, Albany. He came to Washington for an internship at the Congressional Hispanic Caucus Institute, and decided to stay. Attracted by its reputation, he found the graduate program he wanted in the School of Public Affairs.
Rodriguez has been with NCLR since 1994, and says his SPA-learned skills created "a foundation for what I was already doing. The faculty helped me see how to work within systems to create change and explained the nuances and dynamics of a bureaucracy. I apply these every day in my work.

"The political process can seem mystifying because there are many nuances and dynamics. There was a time when I didn't respect politics very much. The light bulb turned on very slowly, and it was illuminating when I realized how to work within the system," he says.
Knowing how to thread his way through a bureaucracy is key to success, he says, because the issues he tackles for the U.S. Hispanic population are crucial. Latinos are the fastest growing segment of our population—"we are looking," Rodriguez notes, "more long term: 20 percent of the child population is Latino, which will grow to 30 percent in 2030. Helping them strengthens our country."