Alumni
Amy Reeder, SIS/BA '95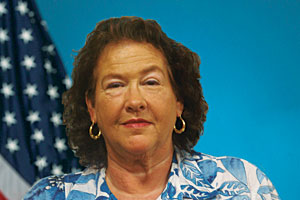 It's all about simple living. Then and now.
Frank Lloyd Wright's Pope-Leighey House is the only example of the architect's work in the D.C. area, notes Amy Reeder, who spends many weekends as a volunteer tour guide of the property. It's a great introduction to his work and beliefs. He was the original green thinker."
Since 2001, Reeder has shown visitors around the historic site, drawing on her encyclopedic knowledge of Wright's vision of "building affordable housing for people of modest means."
The house was commissioned in 1939 by journalist Loren Pope and completed in 1941. Its radiant heat, natural light, and emphasis on communal space are concepts familiar to modern green builders.
The house attracts people from all over the country and world, including recent visitors from one of the largest architectural firms in China, and a Boston architect who was a student of Wright's. "Some visitors are Wright fanatics," says Reeder.
"It's fun to see a person's excitement grow. I point them towards other resources and encourage people to take the four-hour drive north to Fallingwater in Pennsylvania."
"I've been interested in Wright ever since I was a child. I grew up in Los Angeles (where the Hollyhock, Ennis-Brown, and La Minatura Houses are located), and my mom always talked about him. He's on the cutting edge, and every one of his buildings has surprised me in some way."
Reeder has lived all over the United States working for the Army, Navy, Department of Health and Human Services, and Department of Justice. She is currently a management analyst for the Department of Homeland Security's U.S. Citizen and Immigration Services.
It was a 1984 move from Georgia to Virginia that brought Reeder  to the Pope-Leighey house, as well as the School of International Service.
"So far," she says, "graduating from AU is the achievement I am most proud of." She's awaiting a tour of her own—the dedication ceremony for the new SIS building."