International
North Africa Internship Inspires New Passion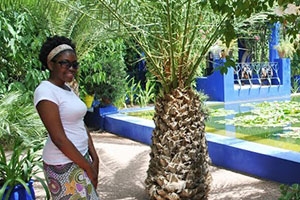 "I didn't want to be pigeonholed."

Which is how Charlotte Young—female, African American, 25 years old—found herself in male-centric, predominantly Muslim Morocco this summer. She arrived in the country with her career plans in flux. Ten weeks later, she leaves with new experiences—and a clear direction.

A summer internship through American University's International Media (IM) program made all the difference.

Charlotte, a Columbia, S.C., native who majored in communication (and minored in community development) at Howard University, had already taught for 1 ½ years in Senegal, and spent time in Nigeria as well. When it came time for her State Department-funded internship, she felt she couldn't afford to be boxed in: "She only does West Africa." So she opted for Morocco—still on the continent geographically, but a totally different culture.

"Moroccans don't consider themselves African," she explains. "They consider themselves Arabic."

Exposure to the culture—and to cultural affairs more generally—proved to be key in resetting her career path. IM can do that.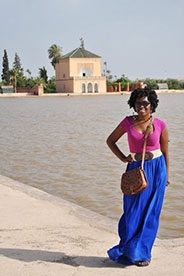 Started in 2007, the IM program is a joint degree of AU's School of Communication and the School of International Service. With a two-year master's track, IM offers "the best of both schools," in director Rick Rockwell's words, as students gain the skills needed to be effective players in an increasingly globalized world. There's the international flavor of Washington itself, of course—the State Department, embassies, and the endless stream of foreign visitors, official and otherwise. There's the chance to make connections—whether with the head of an innovative NGO or with fellow students equally committed to effective communication on an international scale. Add to that the chance to learn about a foreign culture first-hand—on location.

Charlotte was posted to the Public Affairs Section of the U.S. Embassy in Rabat, the Moroccan capital, but her assignments took her all over the country. At first, she worked mostly behind the scenes in press relations—taking notes, and drafting statements. By the end of her time at the embassy, she was at the microphone herself, giving talks and leading discussions. She was debriefing African exchange students returning from the United States, and shooting and editing videos of performers coming from the United States.

"I found a new passion in working with exchange programs," she reports. "I loved interacting with the musicians and dancers that came to Morocco. When I watched their shows, I was watching the connections they made with Moroccans, and I was witnessing changing perspectives of America, too." The hands-on nature of the work appealed to her, with its opportunities for contact with "people on the ground." By the end of her internship it was clear to Charlotte, working in public and cultural affairs was her preferred career path.

The experience was life-changing in other ways as well.

"When it comes to traveling the world, I am no longer afraid to leave my comfort zone. Morocco was different than any of the other cultures I'd experienced and I loved it."