Research
Elms' Anti-Corruption Paper Named Most Likely to Make Impact on Society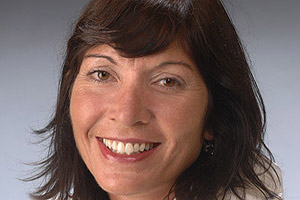 Associate Professor Heather Elms has won a Best Paper Award from an international business organization for her article on ending corruption.
The annual award from the International Association for Business & Society is given to an article published in the preceding calendar year that "promises to make the greatest impact on the field of business and society." 
The article was chosen from among 20 nominees and was published in the journal Academy of Management Review.
The article suggests that the success of "institutional entrepreneurs" – people, groups, or organizations intent on establishing change – depends on both an identification of a crack in the existing status quo and on having the essential resources.
"What this paper recognizes is that you have to change the way people think about how things work," explained Elms, comparing it to a cookbook with a list of ingredients and directions for carrying out reform.
For example, the peace accords that ended the war in Bosnia and Herzegovina in 1995 directed influence over civilian affairs to the Office of the High Representative (OHR), which embodied the international efforts of the UN, NATO, IMF and the EU, among others. As a result, the OHR functions as an institutional entrepreneur in the country, with corruption reform as one of its top priorities.
Another example of a so-called institutional entrepreneur is the grassroots advocacy group CODEPINK, which was created by a group of American women to promote peace and advocate for ending the wars in Iraq and Afghanistan.
Elms began focusing on anti-corruption efforts while living in Budapest in 2002, where corruption is somewhat institutionalized and the general populace has become accustomed to the practice. "Corruption is both a supply and demand occurrence," she said. "There are stakeholders who are enabling corruption to continue."
At the time, Hungary had newly appointed an anti-corruption czar, and Elms was on faculty at Central European University's Graduate School of Business, serving as academic director of the Center for the Social Foundations of Business.
"I started working with a lot of people who did anti-corruption work, both academically and in the field," she explained. While abroad, Elms connected with co-author Vilmos Misangyi, her former student, and Gary Weaver of the University of Delaware, the third and last co-author.
Elms hopes the paper's recommendations, when brought to the attention of humanitarian and governmental organizations, could impact countries such as Bosnia, Afghanistan, and Iraq.
"Corruption is keeping those places from developing in the ways they otherwise could," she said.