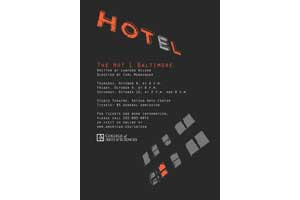 The Department of Performing Arts presented The Hot L Baltimore, written by award-winning playwright Lanford Wilson, at the Katzen Studio Theatre from October 8–10. 
The play depicts a busy day in the lobby of a once majestic but now run-down hotel. Each occupant's backstory is unique, but shares a common theme of misfortune and unfulfilled dreams. The play, which effortlessly blends comedy and tragedy, stands as a metaphor for American society and a group of people that it has cast aside.
 "There's a whole slice of unwanted Americans," says play director Carl Menninger, talking about the characters of the play: a couple of abandoned old people, prostitutes, runaways, and other archetypes looked down upon in America. "Quite frankly, we'd rather not be reminded of them. But the play makes us look at them."
Other works written by Lanford Wilson include Fifth of July and Talley's Folly, a play that won him the Pulitzer Prize for Drama. Wilson was elected to the Theatre Hall of Fame in 2001 and the American Academy of arts and letters in 2004. Mel Gussow of the New York Times called Wilson an American playwright who has "a nostalgic longing for a lost sensibility" and describes The Hot L Baltimore as "a play to be savored and to be cherished."
Menninger has directed or choreographed over 150 productions. As a director and playwright, he worked for various theatres in New York and Chicago before becoming director of the Theatre and Music Theatre Program at American University. At AU, Menninger has directed productions of Into the Woods, I Hate Hamlet, Happy.Go.Lucky, and several other plays.