Science
Diving into Smithsonian Internship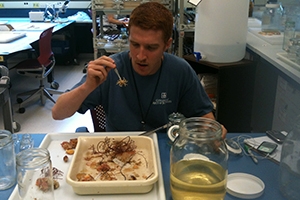 Owen Willis has never been to Okinawa. He's never met diver Robert Bolland. But thanks to a summer internship with the Smithsonian Institution, Willis knows a lot about the octocorals that Bolland collected off the coast of Okinawa. 
Willis, a rising senior biology major, is spending his summer sorting the last of the samples Bolland collected, which are stored in a solution of 70 percent ethanol. Although he is sorting only the octocorals, the most distinguishable form of coral that looks like a sea fan, Willis said they're not the only animals he comes across. 
"The bizarre array of creatures that I get to work with is fascinating," he said. "I come across new mollusks, crabs, algae, sea stars, worms, loads of different types of plants and animals, and of course tons of corals." 
The animals all come from dives Bolland made, especially in the late 1970s and early 1980s, when he was working for the U.S. military at the base on Okinawa. Willis said Bolland dove and collected the specimens in his free time and then sent them to the Smithsonian. 
Willis spends his days with these specimens in the lab and Pod 5, a heavily air-conditioned room with "shelves upon shelves of organized wet specimens." 
"For each jar that I work with, I take out all of the animals and sort them by phylum—if they are not octocoral—or by genus, if they are octocoral," Willis said. "For example, I may separate out the shells, the sea stars, and the crustaceans from the corals, and simply leave them with their proper phylum name. For the octocorals, however, I sort them much further, down to genera if I can." 
It is sometimes difficult to tell what genera or species an animal is just by looking at it, Willis said, and so he takes DNA samples to distinguish them. 
Willis ended up at the Smithsonian thanks to a fascination with invertebrate zoology, after taking a class on the subject with Professor Christopher Tudge. Looking for opportunities to learn more about invertebrates, Willis turned to Tudge, who put him in touch with Tim Coffer, a coral specialist at the Smithsonian. Coffer is Willis's project advisor, and the two work at the Smithsonian's Museum Support Center in Suitland, Maryland. 
Because of the hours he's spending with sea creatures this summer, Willis said more information about them will be readily accessible to scientists. 
"No specialist can utilize any specimens that are not cataloged while conducting their research," he said. "When these animals are cataloged, it allows us to take DNA samples and get a better understanding of not only our evolutionary history, but also the environmental conditions of the time." 
But the best part of his research, Willis said, is the animals. 
"The amount of animal diversity, even just in the Okinawa reefs, is absolutely striking," he said. 
As for the best part of his internship? 
"The best experience of my internship thus far is working with the people down at the Smithsonian," Willis said. "I have never met a more enthusiastic, nerdy group of people who love what they are doing."