Achievements
Peer Advisor Program Continues to Shine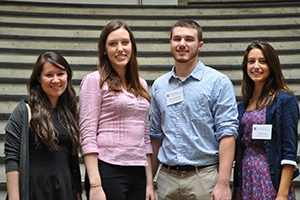 Making the transition from high school to college isn't always easy. To ease that shift, AU's College of Arts and Sciences launched the Peer Advisor Program in the summer of 2008. Peer advisors are other College of Arts and Sciences undergraduates who help freshmen and undecided sophomores understand how to utilize their campus resources to the fullest extent. 
They also work to build connections between the students and the advising office. "Sometimes it can be very intimidating to talk to a 'regular' advisor," says program director and senior academic counselor Alicia Mandac. "And while CAS advisors can talk about majors and campus resources from their own previous experience, it really provides a different connection when students advise other students."
The program is driven uniquely by the ideas generated by the current peer advisors. This means that each year the peer advisors use different ways to reach students. This year, for instance, the peer advisors decided to set up a table on the Quad and run a photo campaign featuring AU students and their advice to incoming students written on whiteboards. The photo campaign can be seen on their blog. More ideas are in the works for next semester, from panels to open mic nights designed to connect with students and encourage them to get involved.  
Students that participate as advisors often end up using the skills they learned in the program in their lives after graduation, oftentimes in their educational pursuits. Advisor alumni are enrolling in medical schools, graduate schools, teaching, and other advising programs. "One of our advisor alumni has even received a graduate assistant advising position at her graduate school, so that's very exciting for us to see their success after the program," says Mandac. "Any student who works in the peer advising program not only helps fellow students, but also gains useful professional skills in program management, leadership, and interpersonal communication." 
Sofie Friedman, a peer advisor during the 2012-2013 academic year, is currently pursuing a master's degree in counseling psychology at Loyola University Maryland in Baltimore and also works as a writing center tutor. "Working as a peer advisor provided me with a plethora of applicable skills that I've used in both my professional and personal lives after college. Being able to work one on one with students, help plan events, manage a blog, and even have a hand in the interviewing process for the next peer advisors has been great real life practice that I have often had to draw upon. Gaining this type of experience has opened many doors in terms of employment and has made me confident in my abilities in so many areas."
Last semester, peer advisors met with nearly 60 percent of incoming College of Arts and Sciences students, with 309 appointments made. This is an uptick from last year, when they had reached only 50 percent at the end of the academic year, and through other types of appointments. 
The peer advisor program is now in its sixth year, and the office has started to track its numbers to get an idea of the impact the peer advisors are having. "We keep growing and growing every year. We've started looking at retention rates, and what we've seen so far, especially in the first couple of years that we've done this, is that there has been an increase in the retention of undecided students," Mandac says, a welcome fact in a program designed to help students choose a major. 
While the advising office doesn't attribute student retention solely to the program, they have noticed that of the students who had registered for another year, many of them had chosen to meet with a peer advisor at least once. "For our part, we now need to look at those students who aren't meeting with advisors and be more proactive about reaching out to them, because we are seeing that there is some relationship between not meeting with peers and not registering for another year," Mandac says. 
The big number crunching, she adds, is coming up in a semester or so, when their data allows for maximum comparison. "My goal is to get first year students who have a question to think of their peer advisor as someone who can help," she says. "I'd love to see this become a fully realized institutional resource."