Alumni
Kogod Alum Bikes Across America for Charity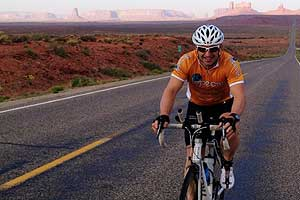 Len Forkas, MBA '87, isn't an Olympic athlete, but he did finish a 3,000 mile bicycle race this summer.
The grueling Race Across America (RAAM) from Oceanside, California to Annapolis, Maryland was a testament to Forkas' physical fitness and unyielding determination. It was also the product of his commitment to a cause close to his heart.
Connecting Others
In 2002, Forkas founded Hopecam, a nonprofit that connects homebound children undergoing treatment for cancer and other life-threatening illnesses with their friends at school using laptops, high-speed internet connections, and web cameras.
A 52-year-old father of two, Forkas became invested in the cause when his own son, Matt, was diagnosed with leukemia at 10 years old. After seeing firsthand the loneliness, boredom, and isolation homebound cancer patients endure, Forkas created Hopecam to bring back the social element of childhood for his son and other children. Matt is now 19 and healthy.
In order to raise money and awareness for Hopecam, Forkas called the RAAM "Len's Race for Hope," and successfully raised over $320,000 for his charity—more than double his goal. The amount was reached through corporate sponsorships and personal donations, including one sizable matching donation of $150,000 from a wealthy individual.
According to Jennifer Bond, executive director of Hopecam, it takes about $500 a year to facilitate the connection between a homebound child and his or her school. With the $320,000 raised through the race, Hopecam can connect hundreds more children for years to come.
Grueling Race
Forkas completed the 3,000-mile race—nearly 30 percent longer than the Tour de France—in 11 days, 4 hours, and 47 minutes. He rode an average of 20 hours a day, and was one of just 28 out of the 46 solo competitors to finish the race. Of those 28, Forkas placed first in his age group and tenth overall.
He credits his crew of 11 volunteers for helping him finish, as they provided him with food, water, supplies, and moral support. Some nights Forkas slept for 3 to 4 hours in hotels; other days he would ride all day and take sporadic 15-minute naps in the accompanying RV. 
His diet consisted of 80 percent liquids; he was 10 pounds lighter by the time he reached Maryland's capitol city.
In addition to his work for Hopecam, Forkas is the founder and CEO of Milestone Communications, a wireless infrastructure company that has developed and managed over 40 wireless towers in the Washington, D.C. region. The Reston, Virginia-based company was founded in 2000, and specializes in creating partnerships with local governments in order to build on public properties.
After graduating with a degree in architecture from Ball State University, Forkas earned his MBA, specializing in finance. He said that AU prepared him to become an entrepreneur in the real estate and wireless industries, and that during his time at Kogod he built many lasting relationships with classmates.
Speaking to the blog Late Blooming Entrepreneurs, Forkas said, "The race is brutal, both physically and mentally. But compared with what a child with cancer goes through, it's peanuts."
If you would like to donate to Hopecam, you can do so at hopecam.org/donate.