On Campus
AU Files Application to Relocate Law School to Tenleytown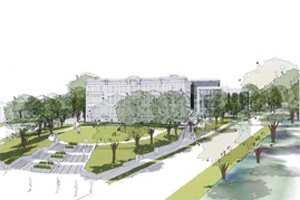 American University has filed an application for further processing with the D.C. Zoning Commission, seeking approval to relocate its Washington College of Law (WCL) to AU's eight-acre Tenley Campus at the intersection of Nebraska and Wisconsin Avenues, NW.

The application follows more than a year of discussion with Advisory Neighborhood Commissioners and community members about the project objectives and community concerns.  A number of meetings were held with the AU architect (Smith Group) to assist in the design evolution. More recently, the Office of Planning, in coordination with the Office of Ward 3 Council Member Mary Cheh facilitated discussions among parties that included AU officials, ANC commissioners, community members, project architects, and Historic Preservation Office representatives.

Given its growing prestige and national reputation, WCL has outgrown its current facility at 4801 Massachusetts Ave. NW, where it has been since 1996 (in 195,000 square feet). The instructional spaces are undersized, library areas inadequate, faculty and administrative offices inferior, and student areas undersized and over utilized.  Needing more space to accommodate current programs, the law school has been renting space (16,000 square feet) in three additional locations in the adjacent commercial and retail area.

To fulfill its needs, the proposal seeks approval of a fully integrated law school facility with some 310,000 square feet and parking for approximately 450 vehicles (including 400 below ground).  The project has been designed and configured to support a possible student population of 2,000 and supporting resources for 500 faculty and staff.  Currently, the law school enrolls approximately 1,770 students.  

A significant advantage of the site is its transportation accessibility which is walking distance to the Tenleytown Metro and is located on major bus routes along Wisconsin and Nebraska Avenues.   

The project includes efforts to:
Create a highly effective and functional facility that builds on the law school's heritage and enhances its academic program;
Concentrate the density on the eastern portion of campus to minimize the visual impact on the surrounding neighborhoods;
Develop a campus esthetic that maintains open space and green areas and creates an appropriate relationship with both the adjacent community and the Wisconsin Avenue commercial corridor;
Maintain the organizational principles that influenced the sense of "academic campus" that evolved over decades;
Locate new and renovated buildings largely within the footprints of existing structures;
Enhance and maintain the landscape buffers along Warren, 42nd, and Yuma Streets;
Preserve and strengthen the historic character of the Tenley Campus (including Capital Hall and Dunblane);
Leverage the campus' proximity to the Tenleytown Metro Station; and
Redevelop the Capital Hall front lawn to create a community friendly courtyard and better engage pedestrian activity and public access from Tenley Circle.

The Tenley Campus improvements will place a high priority on sustainable design and actively promote environmentally sustainable development principles. The objective of LEED Gold certification has been established for the project, with energy efficiencies, building systems, and site infrastructure designs that support that goal.   

Access to public transportation—which includes walking distance to Metro and bus routes along Wisconsin and Nebraska Avenues—will provide a variety of travel options to offset travel by car.  Accommodations for bicycle commuters also are planned.  An off-campus parking program will be in effect for students, faculty and staff, with the surrounding streets patrolled, citations issued, and violators subject to administrative penalties up to and including Honor Code violations and disciplinary action.  

The application respects the historic character of the Tenley Campus and states AU's desire to protect the Dunblane House on the western end (which dates back to the mid–19th century), and the chapel on the eastern end, which dates to the 1920s when the parcel was home to the Immaculata Seminary School for Girls.  AU has been working with the Office of Planning and Historic Preservation Office on a design that addresses the site's pertinent historic attributes.

The Tenley Campus currently includes five buildings and is home to AU's Washington Semester Program, three residence halls with 497 beds, and offices for Communications and Marketing.  

This further processing application augments the Campus Plan application previously filed by American University (March 18, 2011) which is currently being reviewed by the D.C. Zoning Commission in hearings scheduled into the fall. The further processing application will reviewed by the Zoning Commission in separate hearings, likely to be in November and December 2011.     

American University's Washington College of Law is a center of legal education that serves a diverse and entrepreneurial community, providing opportunities through education, special programs, and centers that address substantive contemporary legal issues. The WCL faculty and students contribute to research and  writing and have an impact on the local, national, and international legal communities. The school also is a renowned center of international legal education; its International Legal Studies Program enrolls students from more than 50 countries around the world and features one of the largest networks of international alumni of any law school. The school's commitment to experiential learning has led to the development of an outstanding Externship Program and highly recognized Clinical Programs dedicated to providing free legal services to Washington, D.C.'s most vulnerable populations.