Alumni
Through Startup, Alum Brings A Czech Tradition to the U.S.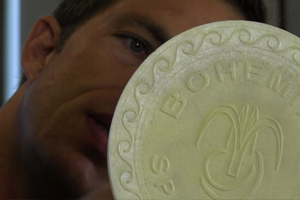 After years of hauling suitcases full of spa wafers back to the U.S. from Prague for friends and family, Tomas Trnka, BSBA '11, decided to make distributing the sweet, crispy treats his business.
"It took me a while to realize that there was a market for them here, right under my nose," Trnka said.
He founded Bohemian Spa Wafers with his wife (they are both natives of the Czech Republic) in December 2011. Trnka oversees the bakery where the spa wafers are made in Prague, imports them to the U.S., and handles marketing and distribution.
His education at Kogod helped prepare him for the role of entrepreneur.
"I discovered my strengths and sharpened the areas that needed improvement for me to become successful in creating something of my own," he said.
As his business continues to grow, Trnka has decided to pursue a graduate degree in finance at Kogod.
"You're learning everyday as a business owner, but what you learn in the classroom provides the foundation," he said. "It's important to understand all aspects of business, but particularly the finance side."
Growing Demand
The Czech Republic is known for its spa cities—cities built around naturally occurring hot springs or mineral springs. Realizing that a light snack might enhance the experience, a baker created a thin, crispy wafer for spa patrons.
They are still served today.
Bohemian Spa Wafers are now available in ten stores in D.C. and New York. Regional Whole Foods stores may be on the horizon, too.
By the end of the year, Trnka plans to open a kiosk at a shopping mall in Atlanta, serving spa wafers warm, with chocolate or ice cream on the side.
"When a customer enjoys your product, it's the biggest satisfaction one can get," he said. "[But] creating something with your name on it and trying to sell it is not as easy as you would think."
Trnka is now enrolled in Kogod's MS in Finance program and is expected to graduate in 2014.