Academics
Award-Winning Summer Institute Enters 15th Year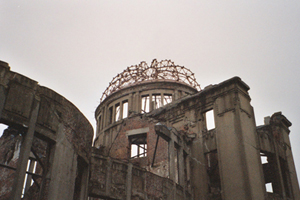 AU's Nuclear Studies Institute "is one of those things in your life that changes you," says Eric Singer. The history PhD student has participated in the summer institute twice—once as a recent undergraduate in 2001 and again as a graduate student in 2006. "It's one of the most amazing academic experiences I've ever had," he says.
Now embarking on its 15th year, the Nuclear Studies Institute is a four-course program that provides students with first-hand understanding of the history and effects of nuclear warfare. It is composed of three on-campus courses—American Culture in the Nuclear Age with history professor Peter Kuznick, Nuclear Weapons and American Democracy with SIS professor Robert Musil, and History of the American Peace Movement with Sanford Gottlieb, former executive director of the National Committee for a Sane Nuclear Policy (SANE)—and a study-abroad class that brings students on a four-city tour of Japan featuring people, places, and commemorative events and institutions related to the nuclear bombing of Hiroshima and Nagasaki.
As the institute's cornerstone, this travel course joins AU students with students from Ritsumeikan University in Kyoto and the University of British Columbia. Survivor Koko Tanimoto Kondo joins them as they travel to Tokyo, Kyoto, Hiroshima, and Nagasaki to meet with other bomb survivors—called hibakusha—visit the bombing sites and museums dedicated to the events, and attend the annual remembrance ceremonies held in Hiroshima and Nagasaki.
For AU students taking the trip, having the opportunity to embark on these experiences alongside their Japanese peers is both an invaluable educational experience and a chance to make life-long friends. "When you are there, you are having really intense experiences," says Vincent Intondi, PhD history '09, who took the travel course in summer 2005. "You are visiting places where the bombs were dropped, meeting with survivors who were seriously wounded by the bombings, and going to unbelievable museums. And when you are going through these things with Japanese friends, it puts a real human face on things."
Singer adds, "[Having Japanese students on the trip] opens up a whole other dimension of understanding. Watching them learning about their own history and interacting with survivors, the mask is pulled back and you see people really starting to understand what happened in their country 60 years ago."
Kuznick began the Nuclear Studies Institute in 1995 in collaboration with Akiko Naono, a recent SIS graduate whose grandfather was killed in Hiroshima and whose mother and grandmother survived. He and Naono wanted to do something to commemorate the 50th anniversary of the bombings that summer.  SIS quickly got on board, and the institute was born. 
The year of its launch, the institute cosponsored an exhibit at AU on the atomic bombings and their aftermath with the cities of Hiroshima and Nagasaki. The exhibit featured many of the artifacts that had had been slated for display in the Smithsonian's Enola Gay exhibit, until it was canceled amidst great controversy. The exhibit garnered international attention, and the citizens of Hiroshima were aware of the institute's efforts even before its students arrived that summer. "That year began a very special relationship between AU and the city of Hiroshima," says Kuznick, "and it is one that has grown ever since." 
The following year the North American Association of Summer Sessions named the Nuclear Studies Institute the "most creative and innovative summer program" in North America.  It won the award in 1996 as I recall.  [O2]Without mentioning the 1995 exhibit, it is impossible to understand why such a bond was created between AU and the city of Hiroshima.