Alumni
Kyle Taylor '06 Attempting to Swim the English Channel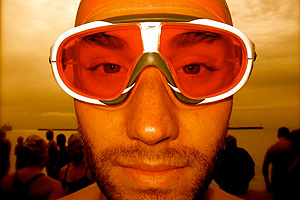 Various topics float through Kyle Taylor's mind as he's swimming back and forth across Dover Harbor. Designing his dream home. His five favorite songs, and the reasons he loves them. Basic multiplication tables. Taylor '06 tries to think of anything that will distract him from the biting cold and overwhelming fatigue ravaging his body.

But when this mere training is over and he plunges into the English Channel for the 10-hour swim from England to France sometime around July 4, Taylor's thoughts likely will shift to Harvey, the firecracker of a four-year-old who sparked this adventure.

Taylor is studying at the London School of Economics this year as a Rotary Scholar. It was through a Rotary club there that he met Harvey Parry, a young lad who lost his legs to meningitis.

"He has a huge personality," Taylor says of his friend. "He's like the typical four-year-old boy who wants to run all the time. It doesn't seem like an impediment to the way he lives his life. He loves to do everything by himself."

Prosthetic legs enable Parry to remain mobile, but since he's growing so quickly he requires a new set of complex titanium ones with bending knee joints. This is extraordinarily expensive, so Taylor started thinking about ways to help Harvey's mother pay for the prosthetics.

A former competitive swimmer whose career ended after his freshman year at AU due to a shoulder injury, Taylor recently had ventured back into the pool.

"I thought, here I am training, let's make something of it and do it for a good cause," he says. "I tend to be the type who does very bizarre, off-the-wall things."

Case in point: Taylor declared that he would swim across the 22-mile wide English Channel—a feat accomplished by just 841 people, less than half the number who have reached the peak of Mt. Everest. He's raising money on his Web site through pledges and already has surpassed $10,000 in donations.

The first step was a 15-minute swim through the 50-degree waters of Dover Harbor, about 75 miles east of London. Since he won't be wearing a wet suit when he attempts to cross the channel, he dove into Dover in just his swimming trunks.

"I didn't know how I was going to make it out alive," he says. "It was so cold I felt like I had an ice cream headache that just didn't go away. When you get out of the water, your body shakes violently to warm itself back up. But you get used to it—shivering is oddly therapeutic."

Training with a group of would-be channel crossers, Taylor next swam for 35 minutes, then 45, then completed two, one-hour swims. By the end of June he was up to six hours, and feeling confident about his chances of conquering the channel.

Depending on weather conditions, Taylor will make his attempt between July 3 and 7, with the July 4 being his target date. A boat with supplies and a person trained in first aid, CPR, and hypothermic identification will follow him as he swims through what is one of the busiest shipping channels in the world. He won't be allowed to wear a wet suit, touch the boat, or stop more than once an hour for a 15-second or so bite of an energy bar and swig of a Gatorade-like drink.

"I keep envisioning walking onto the beach in France," Taylor says. "People do it for different reasons. I found the perfect mix of overcoming my shoulder injury and challenging myself in a physical sense. The people you talk to who have done it, it fundamentally changes their lives."

Successful or not, Taylor's quest already has changed his life—and a lucky four-year-old's—for the better.