Campus News
Fasting for the Greater Good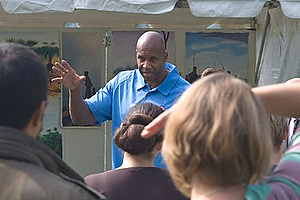 For five days he went without, so others wouldn't have to.
American University basketball legend Kermit Washington '73 fasted from Oct. 1 to 5 on the main quad to raise awareness and money for the plight of the hungry in Africa. The former All-American elicited an approximate $20,000 in pledges for his nonprofit organization, Project Contact Africa, which delivers medical aid and food to poor Kenyans.
"We're doing this because we want to show people we'll go through some discomfort, even though it's nothing like what the people in Africa go through every day," he said.
Washington's home base for the week was an RV parked in front of the School of International Service (SIS). On Oct. 2, he slept in a tent for the first time since he was a Boy Scout. He was joined under the stars by SIS dean Lou Goodman and about 50 AU students.
"Kermit established a partnership with SIS for a new study abroad program in Kenya [in 2005]," Goodman said. "He's an alum we're very proud of, and we're happy to help him raise funds for the greater good."
Washington conceived of the idea for a fast while on a flight to Nairobi. In Africa just $1 can produce 10 meals of rice, beans, and cornmeal, he said. In addition to raising money, the event provided AU students with an opportunity to learn more about the issue.
"The best four years of my life to this point were at American University, and I thought it would be wonderful to have it there to pull everyone together," he said. "The School of International Service sends kids over to work in Kenya every year and has helped me in everything I do. I couldn't pick a better place to do this."
The fast began Oct. 1 with a few words from Washington, Goodman, and President Neil Kerwin.
"This is the latest phase of what is a remarkable lifelong commitment," Kerwin said. "It's a tribute to Kermit that hundreds of thousands of meals already have been delivered through his hard work, and through this, we hope [for] 1 million more."
The next day featured a nongovernmental organization (NGO) fair. Freshman Natalie Apcar manned the Student Organization for African Studies table, and praised Washington for his efforts.
"It's not close to what people in Africa are experiencing, but it's a good way to devote yourself to thinking about it," she said.
Junior Chuma Onwuka is president of Concerned Black Men, an organization that mentors middle school students in Washington.
"I'm from Nigeria, so I've definitely seen poverty in African nations," he said. "I think it's pretty great to see a former NBA player doing this for others."
Washington is perhaps the most accomplished athlete in AU history. As a senior he averaged an astounding 21 points and 21 rebounds per game en route to earning All-American honors. After an eight year career in the National Basketball Association, he was an All-American once again, earning induction into the GTE Academic All-American Hall of Fame in 1993.
By the time he finally ate, on Oct. 5, Washington had dropped 11 pounds, but his spirits remained as high as ever.
"We can take care of a lot of ills in the world if we are just aware of what we can do with a dollar," he said.