Humanities
New Course: African Americans and the World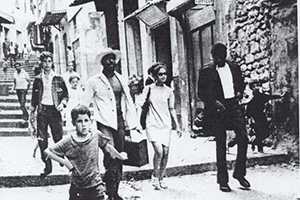 In many high school history classes, students only have a fleeting opportunity to explore the legacies of the African American community. While slavery and civil rights appear as topics in such courses, basic instruction typically looks at such issues in an American political context.
Professor Theresa Rundstedtler's course, African Americans and the World, explores numerous aspects of the population and its impact around the globe. Professor Rundstedtler seeks to instill in her students a greater appreciation for African American society and its contributions to world civilization. The scope of the class extends far beyond the borders of the United States. Students will examine the legacies of inequality and slavery and will also research how the struggles of African Americans relate to the Caribbean and the Atlantic World. As many still do today, figures such as W.E.B. DuBois and Martin Luther King saw that their people faced similar challenges as other groups around the world such as oppression and economic disparity. The students will read about and discuss such patterns of thought by studying abolitionism, the action against apartheid, Black Power, and other movements.
Taking a fresh look at African American society helps students appreciate the problems our nations still faces regarding racial identity. By looking at the United States through this new lens, the class will gain insight into the many sub-fields of historical literature on an extremely engaging subject.