Bridging the TV/Internet Gap at Al Jazeera English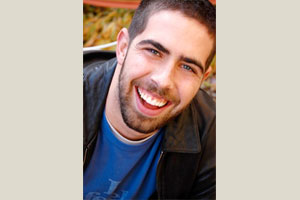 An alumnus' new show on Al Jazeera English is bridging the gap between Internet and television, using social media as the sole platform for content.
The Stream, which runs live Mondays through Thursdays at 3:30 pm on Al Jazeera English, uses social media, like Twitter and Storify, to run the show, letting audience commentary dictate the discussion.
Ben Connors, SOC/BA '06, is the Creative Strategist on the show. He says that combining the traditionally bureaucratic nature of television with the participatory ethos of the Internet was breaking new ground.
"We're inviting people to participate in an environment that is traditionally very exclusive," Connors said. "One of the things that's important to me is the idea of empowering people, and this show will work if we get people engaged in an interactive way."
Connors says that although social media use has matured, it has not yet been used effectively in news, which is where The Stream will be filling a gap.
"Right now the use of social media in news is so disjointed, they kind of lump it in with whatever they're doing," Connors said. "But the idea of networked communication is really important, and we're seeing what we can get out of that."
The Stream features two co-hosts and a guest host each day, who act as moderators on news and current affairs topics, taking from the social media discussion on the same issues. They are seeking active participants in The Stream, looking for people with a perspective and willingness to engage in a debate.
Connors says, "I like that it's a meritocracy. If you're contributing, if it's good, we'll include you in the show, maybe even one day have you on the show."
The show's development started in January, when the team began to establish a web presence. Prior to the show's start, The Stream had a few thousand Facebook friends and Twitter followers, which, Connors said, comprised of an active social media community.
"We decided to be as public about our development process as we can," Connors said. The openness extends into the show itself, where audience can tune in five to ten minutes prior to the show online, and watch for twenty minutes after the show wraps at 4pm as conversations with guests continue. "With our web presence, we're not as constricted."
Social media's impact on both traditional top-down reporting and news distribution and as a facilitator for a bottom-up method, Connors says it's an ideal time for finding new models for communication.
"The reason I joined Al Jazeera is that the West needs to talk to the Arab world, needs to find new ways to communicate," Connors said. "That's what we're doing here, we're finding new ways to communicate."