Business
Case Competition Puts Students at Helm of The Economist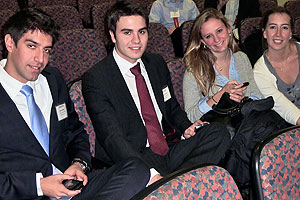 The news came in at 11:59 p.m. Tuesday, February 8: the case had been posted on the Kogod website. It was a little more than 80 hours until the 8:45 a.m. Saturday, February 12 deadline.
One of the few cases to feature a successful company in the 19-year history of the Kogod Case Competition, this year's case posed an unusual question to the 235 student participants: How to increase the success of the weekly news magazine The Economist, which already has nearly 1.4 million readers around the world.
Despite the contracting global market for news magazines, The Economist saw a 6.4 percent increase in circulation and a 26 percent increase in ad revenue in fiscal year 2009.
The students' challenge was to determine how to top that.
"This is my favorite event that we do with students because it highlights the students' ability to work fast, to work smart, and to work together," Dean Richard M. Durand said in an interview during the Saturday event.
The high-profile annual event is one of many co-curricular programs put on by the K-LAB, Kogod's student programming and activities department.

Longtime Benefit

Alexander Feld, BSBA '10, said the benefits of the Kogod Case Competition continue long after graduation. Feld won third place as a sophomore in the 2009 competition and recently took first place in a company competition at Freddie Mac, where he works as an analyst in compliance risk.
Employees competed in teams to present the best solution to Freddie Mac company culture to company executives. Not only did Feld win $5,000, but he also gained exposure to upper-level management in the corporation.
"I can almost directly attribute that success to the Kogod Case Competition experience," Feld said.
Peter Drummond, BSBA '07, now a commercial auditor with Deloitte, returned to campus for the competition and said he plans to come back next year as well.
"It was one of the most valuable things I did as an undergrad," he said.
Road to the Finals
The entire Kogod community came together during the weeks before the event to help students prepare for a strenuous competition. Like a newsroom team, each played a role: hosting a "Meet the Judges" event, a crash course on case analysis, a workshop on organization and persuasion, and a workshop on persuasive PowerPoint presentations.
After the case was released, Business Librarian Michael Matos offered advice on gathering evidence; a panel of industry experts offered insights; K-LAB provided late night pizza; and the Center for Business Communications held presentation rehearsals.
Alumni also returned to Kogod for the competition on Saturday to participate as judges and observers.
During the morning preliminary round, each team presented its solutions to about five judges; some were alumni and all were successful industry executives. The top three graduate and three undergraduate teams were selected to continue to the final round in the afternoon.
During the Saturday luncheon, Associate Dean for Academic Programs Lawrence Ward introduced keynote speaker Jonah Gitlitz, KSB/'55. Gitlitz is a "super alum," Ward said, and the longest-serving case competition judge. Now retired, Gitlitz was a reporter, member of the National Association of Broadcasters and a senior executive in the advertising industry.
"I continue to be impressed by the caliber and professionalism of these teams," he said, wishing the students well.
Four freshmen from the Chinese University of Hong Kong were the only international team. Sponsored by their university, team members Alan Yip, Sam Luk, Boris Ng, and Victor Hui said the competition was a great chance to meet people and get competition experience.
The Final Product
Finals went live after lunch, and three undergraduate and three graduate teams competed for top honors.
The teams' recommendations for The Economist varied from incorporating social media and mobile applications to putting the magazine in luxury jets to creating a weekly "behind the scenes" BBC TV segment of The Economist's cover stories.
The winning graduate teams included: 
• First Place ($250 each) – Team M.A.R.K. – Andrew Boutros, Megan Dipaolo, Kevin Jones, Rick Morse 
• Second Place ($150 each) – Polaris Consulting Group – Tyler Coffey, Jim Lenihan, Scott Macrae, Adrian Montgomery, Lisa Tovar 
• Third Place ($100 each) – THE BEAT – Jonathan Woolridge, Patrick Murray, Henry Rust, Elsie Sun, Xiaole Wang
The winning undergraduate teams included: 
• First Place ($250 each) – Cutting Edge Consulting – Rob Book, Adam Bundy, Rob Horn, Alex Lamm, David Sylva 
• Second Place ($150 each) – Business Armada – Ruth Bazie, Thomas Coesfeld, Lev Diyachenko, Diana Hernández, Aley Russell 
• Third Place ($100 each) – Forward Consulting – Jaime Acosta, Emanuel Bueso, Alejandra Camacho, Ana Mora-Bowen
Team M.A.R.K. has the opportunity to advance to a regional competition or a professional development opportunity. Cutting Edge Consulting advances to the Georgetown Business Strategy Challenge.
Sensible Solutions – Kogod sophomores Ben Loeb, Eric Pan, James Paul and Adam Powers – received the Slivinski Award for the best all-freshman or sophomore team and $75 each.
Undergraduate second place winners from team Business Armada said the competition was great real-life experience for working on a team with different personalities and styles.
"The only thing that was stressful was getting the CD of the presentation to burn," said teammate Diana Hernández.