Alumni
Women's Network Kickoff Event Draws A Diverse Group of Alumni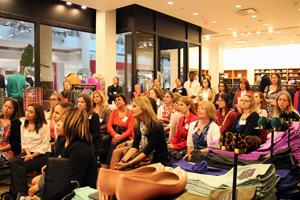 Style, substance, and diversity marked the launch event of the AU Women's Network—a new affinity group open to all undergraduate and graduate alumni.
More than 50 alumni and current graduate students attended the network's kickoff at the J.Crew in Pentagon City, where fashion stylist Tara Luizzi and speech coach Chris Jahnke discussed ways to project confidence in the workplace. View photos.

"What was unique about last night was the diversity of the women in attendance…this group is finding new ways to reach out to alumni that maybe haven't been in touch with the university before, or in a while," said Kristen Owen, MBA '12.
Through quarterly events, the new initiative will provide opportunities for AU's alumni population to connect with each other and the university community.
"Following the inaugural Women in Business Conference we began to see an interest and a need for this type of network," said Rebecca Youngerman, Associate Director of Alumni Relations at Kogod. "The launch event demonstrated the broad appeal of this new group."
Fashion Forward
Focusing on first impressions, Luizzi, owner of Tara Styles DC, offered guidance on inspiring personal creativity, workplace wardrobe etiquette, and how to work in current trends.
"You need to know your audience when deciding what's appropriate to wear," said Luizzi. "Some environments are more casual or creative than others, but regardless, let your personality show through."
She recommended accessorizing if adding colors or patterns is not an option.
Jahnke, president of Positive Communications, pointed out that no matter how great an outfit looks in the store, it's important to take it for a test drive. Knowing how it will move or how it will restrict your movement will ultimately affect how you carry yourself.
"It starts with looking your best," Jahnke said. "The visual aspect accounts for 55 percent of your first impression."
Once you've got your style nailed, presentation becomes the focus. Jahnke shared pointers on effective body language, controlling your voice, and delivering a compelling message.
"Coming together to consider how we present ourselves verbally and visually allows us to connect, learn, and share our student and alumni experiences," said Maria Teresa Del Rosario, MBA '13 and vice president of Kogod Women in Business.
Both Luizzi and Jahnke admit that the rules they follow aren't hard and fast—there are always exceptions.
"It comes down to what makes you feel most confident," Luizzi said. "Trends come and go; figure out what looks best on you and stick with it."
The event was sponsored by the Kogod School of Business and co-sponsored by Kogod Women in Business.