Alum's Film Helps Rwandans Heal
By Adell Crowe
October 5, 2009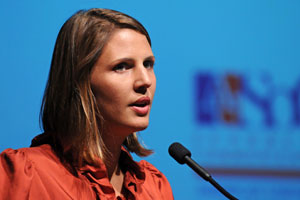 A standing-room-only crowd packed American University's Katzen Art Center auditorium to watch  a film by a School of Communication alumna that is fueling a movement of reconciliation in Rwanda.
As We Forgive, by Laura Waters Hinson, SOC/MFA '07, is now being shown in every school and all 14 prisons in Rwanda so that the whole country can learn from the acts of forgiveness captured in the film. Hinson's documentary tells the story of two Rwandan women and how they came to forgive the men who killed their families during the Hutu-Tutsi genocidal war from April to July of 1994. 
"So many of the people who mentored and supported me on this incredible journey are here tonight," Hinson said. The film won the 2008 Golden Award for documentaries at the Student Academy Awards and has also spawned a "Living Bricks" campaign to help victims of the Rwandan genocide. "Two homes have been built and a third is on the way," Hinson said.
The AU audience saw the premiere of a seven-minute epilogue that Hinson shot this summer in Rwanda. It showed the dramatic affect the act of forgiveness and reconciliation had on the men and women profiled in the documentary. The film launched AU's 10th Annual Human Rights Film Series, and was sponsored by AU's SOC, School of International Service and Washington College of Law..
A panel discussion following the film was led by  Pat Aufderheide, director of SOC's Center for Social Media, and Hinson's thesis advisor, included TIME magazine reporter Amy Sullivan and Dr. Kwaku Nuamah from AU's School of International Service. They discussed the uniqueness of the Rwandan war in that it pitted neighbors against each other and then peace returned killers and victims to live side-by-side.

Hinson said she first learned of the story of the two women and the men who sought their forgiveness while in Rwanda with a group from her church. "I had never heard or read about this before and it hit me like a lightning bolt: This was my thesis."
Now, she said, it is much more. With the campaigns to build homes and share the story of reconciliation throughout Rwanda and other countries in conflict, it's the "start of a campaign to change people's hearts."