On Campus
Not Just Words: Symposium on Language & Endangered Alphabets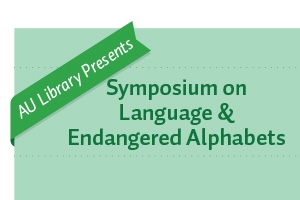 Language and alphabets are critically connected to culture and help shape how their users view the world. Today, many languages and alphabets are considered "endangered." What does that mean for the remaining speakers of these languages and for the cultures that created them? Our upcoming Symposium on Language & Endangered Alphabets explores the loss of global cultural diversity that occurs when languages and writing systems disappear.
The opening workshop, "Language Matters: Change, Choice, and Consequences" will be led by faculty from American University: Naomi Susan Baron, Professor of Linguistics in the Department of World Languages and Cultures (CAS) and Executive Director of the Center for Teaching, Research, and Learning, and Chip Gerfen, Professor and Chair of the Department of World Languages and Cultures (CAS). They will focus on why language, which we often take for granted, is so important, including the social, political, economic, and cultural forces that shape language usage. The discussion will draw on examples of change in spoken and written languages, both historical and modern.
Following this workshop, special guest Tim Brookes will discuss his Endangered Alphabets project. The director of the Professional Writing program at Champlain College, Professor Brookes, founded this project in 2009. As part of the project, he has created carved texts in more than 25 of the world's 30+ endangered writing systems. Exhibited throughout the United States and around the world, his work draws attention to the issue of endangered alphabets and their influence on cultures. Currently, Professor Brookes and his students are raising money to publish books in the languages of the Chittagong Hill Tracts in Bangladesh. Providing texts published in these languages to schools will help more students, who may not speak the national language of Bangla, further their education. More information about this and other initiatives in the Endangered Alphabets project can be found on the project website www.endangeredalphabets.com.
Carvings from the Endangered Alphabets project will be on display during the reception. Professor Brookes will also have a few copies of his book, Endangered Alphabets; additional copies will be available to order. Several carvings will remain on exhibit on the Lower Level of the Library through mid-May 2014.
Students, faculty, staff, alumni, and neighbors are welcome to attend all or part of the symposium. There is no cost to attend, but RSVPs are appreciated for the reception.
Symposium on Language & Endangered Alphabets
Wednesday, April 2, 2014
Bender Library, Mud Box (Lower Level)
Participants are invited to attend all or portions of the event.
3–4pm: Language Matters: Change, Choice, and Consequences with Naomi Susan Baron & Chip Gerfen
4–5pm: Endangered Alphabets with Tim Brookes
5pm: Reception and Viewing, Endangered Alphabets carvings
This event is part of the new AU Library Presents series. It is co-sponsored by the American University Library; University Honors Program; American University World Languages & Cultures; Center for Teaching, Research, and Learning; and the American University Museum at the Katzen Arts Center.