International
A Capital Presence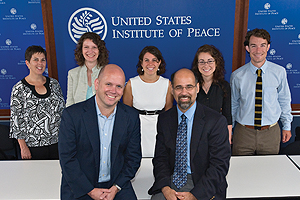 Peace studies were a pioneering idea when they were first taught at AU in the 1980s. A quarter century later, alumni have fanned around the globe to work for peace. Home base for many, though, is Washington, D.C., in the trailblazing nonprofits headquartered here. Other peacemakers come to D.C. from the world's conflict zones to hone their skills at AU workshops. Peace isn't just a dream for these alumni; it's their life's work.
The Fund for Peace
1701 K Street, N.W.
From left, alumni Nate Haken '06, Joelle Burbank '06, and Will Ferroggiaro '04 at the Fund for Peace's K Street headquarters. (Not pictured Patricia Taft '03)
The Fund for Peace is a small organization with a big reputation. And four of its eleven staff members are AU alums.
Its 50-year record for advancing peace and security through scholarship and civic education has earned the fund renown in the international community.
Over the last two years, one of those AU-educated staffers, senior associate Patricia Taft, SIS/MA '03, has traveled around the world bringing the Fund for Peace's mission of "testing theories, engaging civil society, and promoting solutions" to 50 countries.
"At AU, I learned that you can't just sit back in your ivory tower," she says. "You have to go out into the world and test your ideas, get your hands dirty."
A second graduate, Nate Haken, SIS/MA '06, helps analysts and policy makers forecast conflict in weak and failing states, while a third, Joelle Burbank, SIS/BA '06, works on conflict assessment projects, including the annual Failed States Index.
Will Ferroggiaro, SIS/MA '04, who joined the organization in April, leads the Project on the Use and Purpose of American Power, a new initiative that aims to spark conversations about America's purpose in the world.
Ferroggiaro recalls being drawn to the political buzz while a student in AU's Washington Semester program in the mid-80s. "I remember we met with Oliver North. I challenged him, and he couldn't answer my question," says Ferroggiaro. "And that was it, I had caught the Washington bug."
Twenty years later, Ferroggiaro is still posing difficult questions.
"At the Fund for Peace, it's our job to stimulate the debate on foreign affairs," he says. "I'm proud to be a part of that."
Peacebuilding and Development Institute, School of International Service (SIS)
4400 Massachusetts Avenue, N.W.
Serge Adotevi of Togo, an SIS graduate student in inter- national peace and conflict resolution, talks with fellow participants at this summer's Peacebuilding and Development Institute.
Every summer, AU becomes a gathering spot for people with painful stories, powerful dreams, and a global impact.
There are activists like Franca Akello, who is scarred with bullets from a childhood in Uganda's war zone and who now, at 29, represents voters from refugee camps in parliament.
Or relief workers like Maha Sherrif, who has faced down gunmen to do her job for the United Nations in Darfur.
Or AU alums like Toyanath Bhattarai, who never imagined, when he was studying public policy at the School of Public Affairs (SPA) as a 1994–95 Humphrey Fellow, that he'd be helping to oversee disarmament initiatives in his country of Nepal.
Aid workers, government officials, political leaders, and AU graduate students preparing to work in conflict zones learn from each other and some of Washington's top practitioners at the Peacebuilding and Development Institute.
It's part of a program whose very existence was once a maverick idea. In the 1980s, before "peace studies" had widespread acceptance, AU faculty members were teaching courses on peace and conflict resolution to packed classrooms, and students were calling for more.
So in 1995, SIS launched a master's degree in international peace and conflict resolution, which now draws around 60 graduate students a year and has awarded some 400 master's degrees.
It also draws peacemakers and rising leaders to Washington, D.C., from around the world and arms them with new ideas for making peace a reality.
United States Institute of Peace
1200 17th Street, N.W.
A dozen AU alumni are helping build peace around the world—and on the National Mall.
Earlier this summer, the United States Institute of Peace (USIP), which counts 12 alumni among its 70 educators, analysts, and policy practitioners, broke ground on its new headquarters and public education center, nestled near the Lincoln and Vietnam Veterans Memorials.
Alumni at USIP, back row, from left, Susan Douglas '78, graduate student Maria Jessop, Shira Lowinger '05, Elizabeth Detwiler '07, Charles Martin-Sheilds '05, and front row, Ian Larson and David Smith '82
The ceremony drew President George W. Bush, Speaker of the House Nancy Pelosi, and other luminaries from the peace-building and foreign affairs communities—a testament to the institute's 24-year commitment to building a more peaceful world.
Susan Douglas, CAS/BA '78, says that when completed in 2010, the new building will help "increase awareness of the importance of peace building and of the role each of us can and should play as a peacemaker in the twenty-first century."
"At a time when the United States faces such monumental challenges to world peace, it's important for more people to be aware of the significant contributions the institute is making," she says.
David Smith, SPA/BA '82, helps head up one of USIP's key initiatives, the domestic education and training center, which brings courses on conflict resolution and capacity building to colleges and universities across the country.
"I enjoy my work most when students 'get it' [and] come to appreciate and connect with those who live in conflict," says Smith. "This frequently leads to students taking some sort of action . . . to alleviate the consequences of violence in other parts of the world."