Achievements
Princeton Review: Kogod Among the Best Schools for Female Students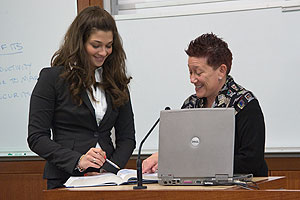 The Kogod School of Business offers exemplary opportunities for women, according to the latest Princeton Review ranking of the nation's best business schools. Kogod was named 10th for "Greatest Opportunities for Women" in the 2010 edition of the Best Business Schools guidebook.
Announced today, the ranking reflects an upward trend in enrollment for the Kogod full-time MBA program.
The latest class to enter the program - the class of 2011 - is an unprecedented 44 percent female. A typical MBA program averages about 30 percent female students.
The school's professional staff and faculty also show a strong female presence; 35 percent of Kogod faculty members are female, as are a majority of the admissions staff.
"Kogod has a tight-knit community and a personal, flexible approach to the MBA program," Director of Admissions Shannon Demko explained. "We believe that these factors contributed in part to all of our students' decision to choose Kogod, but they're of especially high value to women, even in the early stages of their graduate school search."
"I am glad I have chosen this school," confirmed Ana Ines Rodriguez Larreta, MBA '11. "What particularly attracts me as a female MBA is its very warm atmosphere, kind classmates, extremely devoted staff, beautiful building and campus, and the demanding study program which makes me work hard day after day."
Demko also noted that the incoming class is comprised of professionally diverse students with a variety of academic backgrounds – which she attributes partly to the economic downturn.
"Many people saw the downturn as an opportunity to do what they've always wanted," Demko said. "The MBA is a versatile degree that benefits people through various stages of their careers."
The ability to customize their MBA concentration has also proven attractive to a myriad of prospective students, who see it as a great advantage in the job market. 
"When I was searching for MBA programs, the Kogod School of Business stood out due to its extensive offering of career focus opportunities," said Andrea Kayal, MBA '11. "I can select from a wide variety of courses taught by highly accredited professors, which makes learning both flexible and personal."
To compile the ranking, Princeton Review collected almost 20,000 student surveys at accredited MBA programs internationally. Students weighed in on how supportive the culture is of female students, whether the schools offer coursework for women entrepreneurs, and whether case study materials reflect women in business. Princeton Review then compared the students' observations with statistical information on the schools' percentage of students and faculty who are female.
Kogod was also named third in the Best Campus Environment category, based on students' assessments of the school's safety, attractiveness and location.