Literature
Snacks and Stories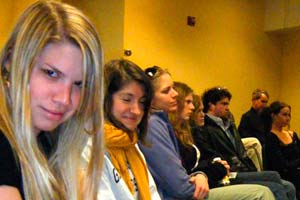 Looking for a relaxing way to get your weekly dose of culture? Check out "Literary Lunchtime at the Library" at the Mud Box Cafe, located in the basement of the AU Library.  
At noon on the third Monday of every month, graduate students in the Department of Literature's creative writing MFA program read their works in progress, which includes poetry, fiction and creative nonfiction. Refreshments are served and couches and chairs arranged for a relaxed atmosphere.  
The Literary Lunchtime series was started five years ago with the inauguration of the Mudbox, which is the coffee bar downstairs in Bender Library. AU alum Tom Jacobson came up with the idea to help the Mudbox have a more coffee-house feel; he also provided a generous donation to launch and continue the program. Mary Mintz, associate director of outreach, is the library liaison. "The library always wants to be connected closely to the campus," she says. "This was another way to do that and to recognize a very strong, very important arts program here at the university."  
These readings can also be very helpful to the creative writing students. "It's an opportunity to present not just your work, but yourself as a creative writer," says Jonathan Harper, MFA student and regularly featured reader. "These events attract a wonderful, encouraging crowd who seem genuinely interested in what the reader has to say."  
The next reading will be on March 15, and it will feature MFA creative writing students Jenny Molberg and Mike Stein. For information on future events, visit the AU Calendar.