News
Exploring the Upside of a Down Economy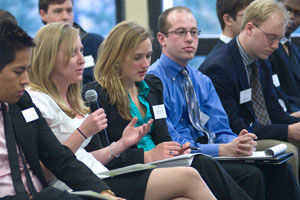 The Kogod School of Business is pleased to announce Eli Futerman, SPA '80, will kick off the 2009–2010 Alan Meltzer CEO Leadership Speaker Series.  Mr. Futerman is co-president and co-chief executive officer of Hahn Automotive Warehouse.
This year's two part series will focus on the "Upside of a Down Economy". Today's headlines are filled with the losses and continued fallout of the current recession. However, not all industries and companies are trimming their bottom lines. Find out how Hahn Automotive and other corporations are finding profits amidst the financial crisis.
The AU community is invited to hear Mr. Futerman's presentation on Wednesday, November 11, at 4 p.m. in Mary Graydon Center.
Hahn Automotive Warehouse is a family-owned automotive after-parts business based in Rochester, New York.  Mr. Futerman has been a director of the company since 1979.  He is the former chairman of the Aftermarket Auto Parts Alliance, Inc. and is a member of the board of governors of the Automotive Warehouse Distributors Association.  He is currently a member of the Kogod Advisory Council.
The Alan Meltzer CEO Leadership Series bring business leaders to campus to provide insight on practical and strategic business issues.  This series is made possible through the generosity of Kogod alumnus and American University trustee Alan Meltzer. 
For more information about Mr. Futerman's presentation and announcements about upcoming speakers, please visit kogod.american.edu/speakerseries.