Research
Rapid Market Changes Drive Kogod Professor to Constantly Evolve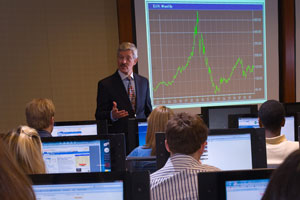 "Finance textbooks, as we know them, can be thrown out the window, they're dinosaurs," remarked H. Kent Baker, Kogod Finance Professor. He believes some old finance practices are no longer reliable and are due for a makeover. According to Baker, finance students must constantly evolve and accept new ideas to understand today's marketplace.
"Financial markets are always changing, but now, the changes taking place are more rapid than ever before and with those changes, come tremendous opportunities for people who are creative," he said. Baker believes new regulations and rules, under President Obama's administration, are opening new fields of study. Coupled with the financial crisis, Baker says there is plenty more to investigate, discover, and learn.
Baker describes himself as an eager finance student. This summer, Baker is knee-deep in research and writing with six books in process that he is co-authoring or co-editing. Although Baker has published numerous studies in finance, accounting, management, and education, his current focus is corporate finance. In 2009, he published a 536 page book entitled Dividends and Dividend Policy, which is the definitive work on this topic.
Survey Research in Corporate Finance: Where Theory Meets Practice will be the first of its kind in finance when it is released in 2010. Published by Oxford University Press the book will be the first to provide a synthesis of research in corporate finance using survey.  
The additional books in development are a part of the Kolb Series in Finance, published by John Wiley & Sons, Inc. and include, Corporate Governance, Behavioral Finance, The Art of Capital Restructuring: Creating Shareholder Value through Mergers and Acquisitions, Capital Budgeting Valuation: Financial Analysis for Today's Investment Projects, and Capital Structure and Corporate Financing Decisions.  
Baker recently co-authored with Gary E. Powell, a chapter titled "Management Views on Corporate Governance and Firm Performance" in Advances in Financial Economics, Volume 13, Corporate Governance and Firm Performance.
The chapter focuses on Baker and Powells' research comparing the thoughts of industry practitioners, top managers at Fortune 100 companies, with the findings of academic research on specific governance issues. Their survey findings suggest that the views of top managers differ substantial from other empirical evidence about several issues involving corporate governance, including board composition and size, executive/director compensation, and ownership and firm performance.
In addition, during 2009 Baker co-authored of two other articles appearing in finance journals. In Managerial Finance, Baker and Robert A. Weigand penned "Changing Perspectives on Distribution Policy: The Evolution from Dividends to Share Repurchases." In the Journal of Investing, Baker published with John A. Haslem and David M. Smith "Performance and Characteristics of Actively Managed Institutional Equity Mutual Funds."
In a constant state of reinvention, Baker sees every day as an opportunity. "Like a flowing river, the economic landscape is always changing which provides many opportunities for those who can recognize that and then act accordingly."