On Campus
5 Cool Research Tools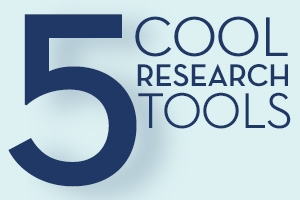 We are on a mission to make your research easier and more rewarding. Below we've listed five terrific tools that we offer to make your academic life a little simpler.
1. Free Citation Software

Programs like EndNote, Mendeley, and Zotero make it simple to grab citations throughout your research process and format them as needed. These citation managers can retrieve citations as you research, generate a bibliography, and help you maintain your own database of citations used throughout your academic career.

Check out our Citation Style Guide to learn more and find the best program for you!

2. Poster Printer

Our large format printer is perfect for creating professional looking posters for presentations, fairs, or projects. We have compiled a selection of helpful poster creation resources, including websites with downloadable templates, poster dos & don'ts, and design tips. Visit the Library website to explore these resources. You can also email us at autechservices@gmail.com to make an appointment for printing or request more information.

3. LibX

LibX American University Edition browser extension provides direct access to your Library's resources. This allows you to search our collections through an adaptive, configurable search box. LibX offers a "magic search" feature, which locates electronically available and accessible copies of articles through Google Scholar. Take LibX for a test drive on our research page and then scroll down to "other research tools".

4. 3D Printer

Create scale models, small props for films or photographs, or generate design prototypes with 3D printing at the library. Now located on the Lower Level, directly across from the Technology Services Desk, this is an inexpensive and fun way to test out your ideas. Let your imagination run wild and then email us at autechservices@gmail.com to make a reservation. For more information, visit our website.

5. BrowZine

This app can turn your tablet (or one checked out from Technology Services) into a bookshelf of your most-used journals! BrowZine works by organizing the articles found in Open Access and subscription databases, uniting them into complete journals, then arranging these journals on a digital newsstand. The result is an easy and familiar way to browse, read, and monitor scholarly journals across the disciplines. BrowZine is available for free download from the App Store or Google Play Store. Once downloaded, select American University and login with your credentials.
Want more great tips about our resources and tools? Stop by to talk to one of our Reference and Research Assistance Librarians today!