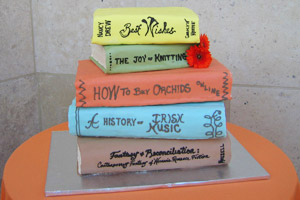 The campus community turned out on Tuesday to thank Kay Mussell for her tenured service to the school and to wish her well as she moves into her new position. This June, Mussell is stepping down as dean of the College of Arts and Sciences to accept the role of interim senior vice provost and dean of academic affairs.
During her 10 years of service, Mussell has overseen the development of a variety of academic programs and interdisciplinary initiatives, including the post-baccalaureate premedical certificate program, Arabic and Chinese language minors, an Arabic studies minor, Israel studies minor and certificate programs, and a doctoral track in race, gender, and social justice. She oversaw the School of Education, Teaching, and Health's NCATE reaccreditation and the clinical psychology doctoral program's APA accreditation, increased research support for faculty and students with Mellon and discretionary funds, and led the development of the Greenberg Theatre and Katzen Arts Center.
During her tenure, CAS fundraising exceeded its original capital campaign goal by nearly 200 percent. Gifts included the Robyn Rafferty Mathias fund, which has supported faculty and student research through both individual grants and the college's annual Robyn Rafferty Mathias Student Research Conference.
CAS would like to thank Dean Mussell for her 35 years of service to the college and for a decade of leadership at its helm.