Television and Film
Documentary Chronicling Ahmed's Journey Debuts July 4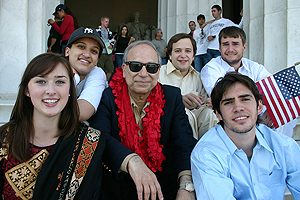 What is the American identity?

AU professor and renowned Islamic scholar Akbar Ahmed poses that seemingly simple, yet impossibly complex question at the beginning of Journey Into America, a new documentary film chronicling his nine-month, 75-city tour of the country.

Supported by a team of his former AU students, Ahmed set out to learn how Muslims fit into contemporary American society. The group's voyage of discovery took them from St. Louis to the coast of Georgia, from Cedar Rapids, Iowa, to Los Angeles, with no stop failing to produce fascinating anthropological information along the way.

"My aim is very simple," Ahmed said. "It is to improve understanding and increase dialogue between different people, different cultures, different religions. I believe if we can remind Americans of the visions of the founding fathers, there's nothing more powerful."

The film debuts July 4 at the Islamic Society of North America convention at the Washington Convention Center. Following the 9 p.m. screening, a panel of religious leaders and scholars will discuss it, and the issues it raises.

New York's Muslim Day Parade is the backdrop for the beginning of the film, which was shot, edited, and written by the team on a shoestring budget, with an assist from Ahmed's professional filmmaker son, Babar, and his crew.

"Two months ago we had nothing, and now we've got a film in the Islamic Film Festival," Ahmed said. "There can be no bigger challenge. None of us are professional filmmakers, but the team was so enthusiastic. In the best tradition of American pioneers, there was no complaining."

The team collected opinions about Islam and the Muslim-American experience from a wide array of people, ranging from Mardi Gras revelers in New Orleans to third-generation Muslims in the Muslim American hotbed of Dearborn, Michigan. A particularly poignant moment occurs toward the end of the film, when the team visits a statue of Thomas Jefferson on the University of Virginia campus.

"It was so inspiring to be able to the see the statue of Thomas Jefferson with an angel holding a tablet with the words, 'God, Jehovah, and Allah' on it," Ahmed said. "No society on earth was that opening and accepting."

Ahmed hopes his journey, and this film, will in some way help America's twenty-first–century culture progress further along that path of openness and acceptance.

"I hope that people will see this film, take the message of the film and promote the ideas that we see in the varieties of cultures and religions of this great country, the United States of America."

Can't make it to the convention center on July 4? The National Cathedral and Washington Hebrew Congregation both are planning screenings for the fall.