Achievements
The Class of 2009 Celebrates a Year of New Tradition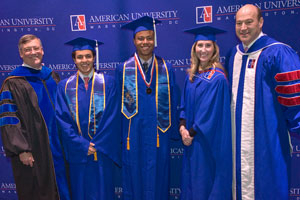 If there is any indication of optimism in the future economy, it is found in the new graduates of the Kogod School of Business. On Sunday, May 11, 2009, Kogod conferred degrees to over 250 students now entering a new era of business.
Gary Cohn (KSB '82), President and Chief Operating Officer of Goldman Sachs, delivered the keynote commencement address. Cohn reassured the class of 2009, that they were entering the workforce at the "optimal time", as he did in 1982. Much like the dire economic conditions of today, Cohn joined the work environment with what appeared to be less than promising prospects. In his address, Cohn proposed a direction for the graduates, similar to his own, that is fueled by passion, motivation, and confidence. He told the graduates that the real experiences endured in the coming years will provide the drive necessary for the rest of their careers. In his closing remarks, Cohn challenged the new graduates to seek ambition, "Wake up every morning and figure out how to win."
Richard M. Durand, Robert and Arlene Kogod School of Business Dean, congratulated the graduates on their accomplishments in their "focused sprint to the finish." Durand remarked the new graduates, "will challenge and change the face of business." Durand also made note that 2009 is a year of "firsts" for Kogod: first class in the renovated expansion of the Kogod building, first class to take part in a single school graduation, and the first class to record their signatures in the Kogod Ledger, a record of graduates.
Student speakers Alexis Bawden (MBA '09) and Mario Beltran (BSBA '09) reflected on their experiences and ruminations during their time at Kogod. Bawden spoke about the power of relationships and communication while Beltran asked the graduates to embrace change through flexibility and adaptation.
Following the ceremony, the newest members of the Kogod Alumni Association were honored a reception hosted by alumna Sandra Walter-Steinberg and the Office of Academic Programs.