Government and Politics
Sen. Leahy: U.S. Needs 'Truth Commission'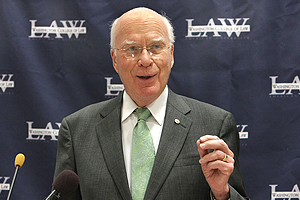 Senator Patrick Leahy made his case for a truth commission on torture as he gave the keynote address at the Washington College of Law's second annual Freedom of Information Day celebration.

"Some have said, 'Turn the page.' I'd like us to read the page we're on first," said Leahy, who has represented Vermont in the U.S. Senate since 1974 and, he said, learned a lot from the Watergate investigation.

"Open and transparent government is the best antidote to the abuse of power," the powerful Democrat and Senate Judiciary Committee chairman told the audience.

A longtime advocate of strengthening the Freedom of Information Act (FOIA), Leahy decried the Bush administration for disarming it with exceptions that, in his view, covered up errors, abuses, and criminal acts. "The right to know is really the cornerstone of democracy," he said. "No democracy exists unless people know what the government is doing in their name."

Leahy spoke as part of a daylong conference on government transparency issues that also featured panels on such timely topics as openness limitations on current financial measures and an analysis of national security classifications.

The conference kicked off "Sunshine Week," a national observance spotlighting the importance of open government. "If knowledge is power, then FOIA is the power cord that connects the people of the U.S. to their government," Leahy said, adding that "nobody sends you a press release when they screw up."

He is currently asking the Justice Department to conduct a comprehensive review of pending FOIA cases. There are legitimate areas where FOIA exemptions make sense, but too often, he said, it's used to cover mistakes.

In the case of possible cover-ups of wrongdoings during the Bush years, he said, the best approach would be a truth commission modeled on the Watergate investigation and the South African Truth and Reconciliation Commission.

It's not a matter of finger-pointing or getting stuck in the past, he said. "I'd like to find out what went wrong. I want to know why any government thinks they can go outside the Constitution and ignore the laws of this country, for whatever reason. I want to know why that happened and how that happened, so it won't happen again."

He was given the 2009 Robert Vaughn FOIA Legend Award, named for the longtime law faculty member, an expert on whistle-blower laws and ethics and a plaintiff in the landmark case Vaughn v. Rosen, which established key elements of the Freedom of Information Act.